As air regulators phase out ag burning, what's the alternative?
Image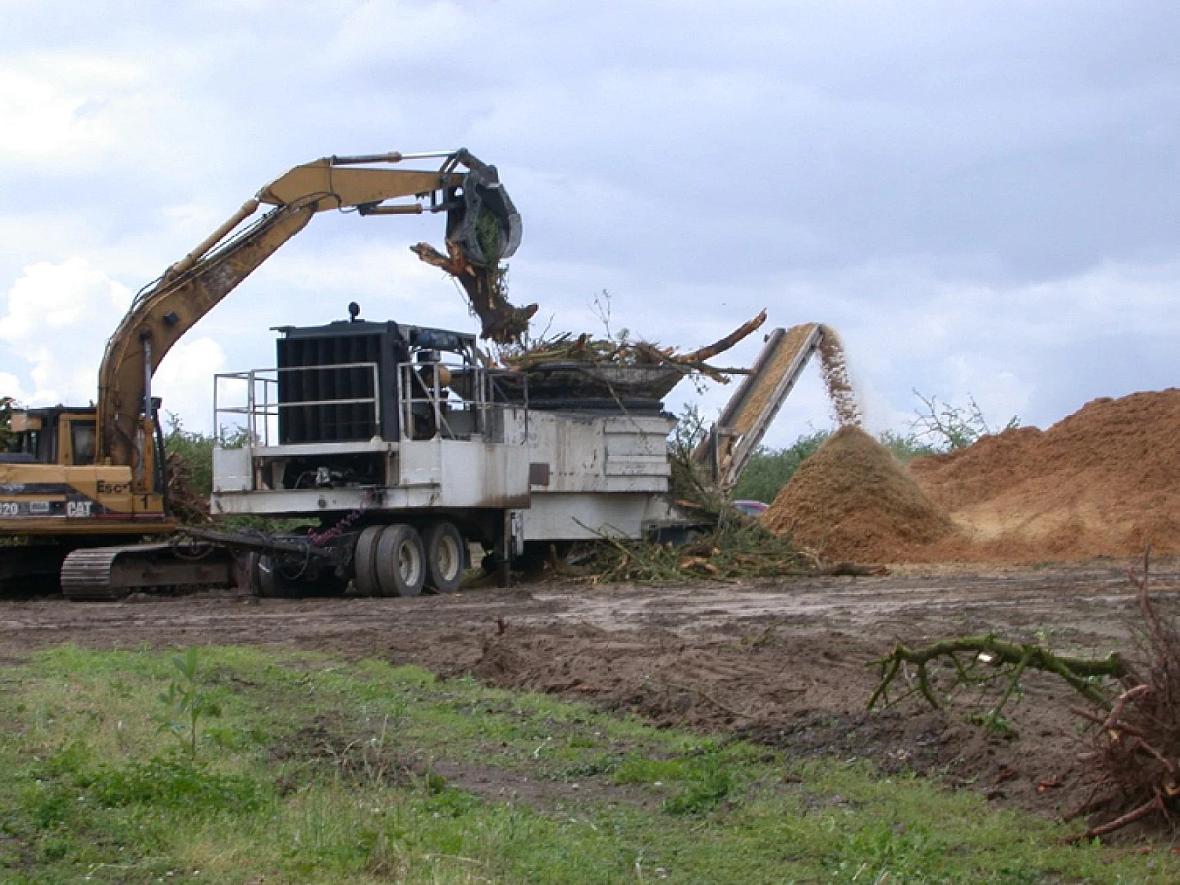 San Joaquin Valley Air Pollution Control District
Published on
September 6, 2022
This is part of the series When the Smoke Clears, produced with the support of the USC Annenberg Center for Health Journalism Impact Fund. 
On a sunny June morning near Firebaugh, a small town west of Fresno, a 600-acre almond orchard was being cleared to make room for pistachio trees. Piles of dead almond trees dried in the blistering sun. Bright orange excavators with snapping claws picked them up like twigs and shoveled them into a wood chipper the size of a school bus. A few hundred feet away, flatbed vehicles dispersed the chips throughout the newly barren field.
Standing on a nearby access road in an orange hard hat and vest, Brian Milne marveled at their toy-like agility. "These are big Tonka trucks and tractors out here and it's impressive the amount of trees that they can move," said Milne, communications director of HM Holloway, the agricultural services company working this field.
This process is called whole orchard recycling or removal, and it is the primary alternative to open agricultural burning being pushed by both air regulators and regenerative agriculture specialists.
Ag burning is an efficient way to clear old trees and make way for new seedlings. Growers also burn limbs lost to storms and high winds, as well as seasonal prunings, diseased branches or beehives, and raisin trays. "It's all about sanitation in a field," said Fresno County nut and grape grower Christopher Frith. "You have so many different things that can affect your field."
In 2017, San Joaquin Valley farmers burned more than 900,000 tons of material, mostly trees and vines belonging to California's vast tree nut, citrus and grape industries. That same year, smoke from those operations accounted for more than 13 percent of the hazardous particulate matter polluting Valley air, according to data from the California Air Resources Board (CARB).
The growing adoption of whole orchard recycling, as well as increased outreach from air regulators and a hefty infusion of cash, are fueling what many are optimistic will finally be a ban on most ag burning by 2025 throughout the San Joaquin Valley.
"I think we're looking at about an 80 to 90% reduction in the Valley in the next three years," said Michael Benjamin, CARB's Chief of Air Quality Planning and Science Division.
A road map to the end of ag burning
The current plan to phase out most ag burning was adopted by a CARB resolution in June 2021 with input from local regulators. It aims to gradually phase out the practice over the next three years with new restrictions taking effect each January.
Smaller operations are given the most flexibility and longest time to transition. Starting in 2022, for example, open burning is forbidden for removal of tree nut orchards for operations with more than 500 total acres. By 2023, it's forbidden for operations with more than 200 acres. By 2025, all ag burning will be banned except in circumstances involving diseased crops or pests.
As burning ramps down, local air regulators with the San Joaquin Valley Air Pollution Control District are turning much of their attention to the people who will be carrying out the transition. "We are definitely spending more resources right now to educate farmers," said chief communications officer Jaime Holt.
The agency sends out a flier about the phase-out to every grower who applies for a burn permit. Officials there have also recorded public service announcements in Hmong and Punjabi, commonly spoken among the Valley's small and specialty farmers.
"We're spending quite a bit of staff time telling them, 'hey, we can give you a burn permit, but we're not certain if and when you'll ever get to burn, and really we want you to go through our grant program,'" Holt said.
That grant program is one of the most significant differences between the 2021 agreement and a state law that attempted and failed to ban ag burning back in 2003. Air regulators are now offering incentives to growers who adopt whole orchard recycling as an alternative to burning. After pumping $40 million into alternatives in 2018, the new agreement is backed by another $180 million added last year.
Image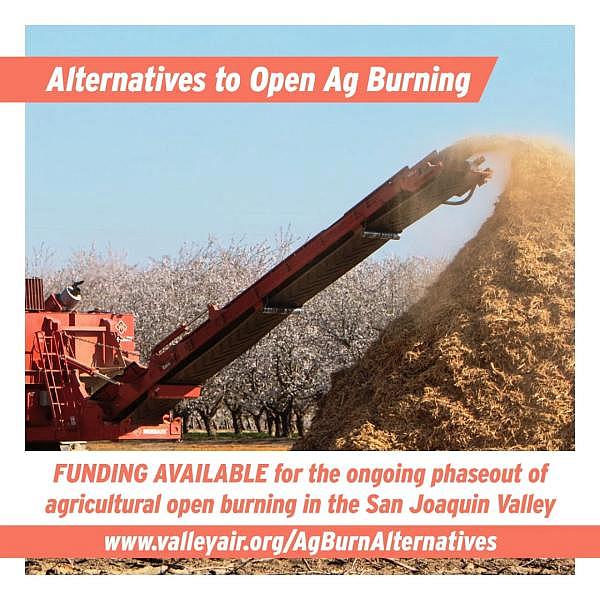 Other alternatives to open agricultural burning include sending the waste material to biomass facilities (most of which have shuttered in the last two decades), composting, or, in the case of weed removal, hand picking, which the air district has determined is unfeasible because of expense.
An additional alternative is air curtain burners, a technology that also involves combustion but reduces emissions from ag burning by about 80%, according to Benjamin. Incentive funds were originally limited to non-combustion alternatives like chipping and soil integration until late 2021, when CARB agreed to allow funds to be used for combustion methods like curtain burners in limited cases.
To Jordan Burt, Vice President of agricultural contractor HM Holloway, making the switch to orchard removal is a no-brainer. "It's an investment in the soil," he said. His company, which also took advantage of air district grants to expand its fleet of orchard removal equipment, includes the practice in its slate of "grave to cradle" services to clear fields and prepare them for re-planting. "You're adding a ton of organic matter back to the ground, you're getting better carbon sequestration," he said.
Research has also shown that orchard removal can help reduce water use, 
Farmers have been hesitant to make the switch. It's expensive. There's been a shortage of companies and equipment to do the work, and the practice is made more complicated for crops like grapes that involve metal stakes and wires that also need to be removed.
Many growers, but not all, embrace alternatives
Still, demand for the practice has increased in recent years. "We've grown 50 to 80% year over year as far as acreage goes on what we're doing," Burt said. According to the district, the number of grants awarded to farmers in order to adopt orchard recycling nearly tripled last fall in comparison to previous years. Simultaneously, since 2017, the amount of material burned in the Valley has dropped by nearly 50 percent.
One force behind those changes has been buy-in from the almond industry, whose growers control 1.6 million acres of farmland and more than 10 percent of the $50 billion in profits brought in by California agriculture each year. They've also been responsible for more than 250,000 tons of the material that's been burned in the Valley since 2011.
The Almond Board of California has pumped nearly $900,000 into supporting academic research into whole orchard recycling, according to a spokesperson, and a promotional video produced by the board hawks the practice as an investment into the future of ag.
"We're trying to lean in and be leaders here and we've been really happy that our producers have been too," said Aubrey Bettencourt, president and CEO of the Almond Alliance of California, a trade group that represents thousands of almond growers.
Many growers who responded to an informal KVPR survey on ag burning expressed concerns about the cost of orchard recycling. Agricultural research out of UC Davis estimates it can cost up to $800 more per acre than burning.
That's why, using the combined $220 million in grants for burning alternatives, the air district offers up to $600 per acre to recycle orchards and up to $1,300 per acre for vineyards, and more for small growers on less than 100 acres of land.
The U.S. Department of Agriculture, through its Natural Resources Conservation Service, also provides farmers with up to $1,300 per acre for the service, according to a spokesperson, and more for those growers considered socially disadvantaged.
Even with this cash incentive, the primary alternative to ag burning may not be accessible to many Valley farmers, particularly those on small parcels of land with slim profit margins.
Kerry Klein can be reached at kerry@kvpr.org or on Twitter @EineKleineKerry. Monica Vaughan can be reached at monicalvaughan@gmail.com or on Twitter @MonicaLVaughan.
[This article was originally published by KVPR.]

Did you like this story? Your support means a lot! Your tax-deductible donation will advance our mission of supporting journalism as a catalyst for change.