Hurricane Harvey exposed the gap between people who could afford to rebuild — and everyone else
Image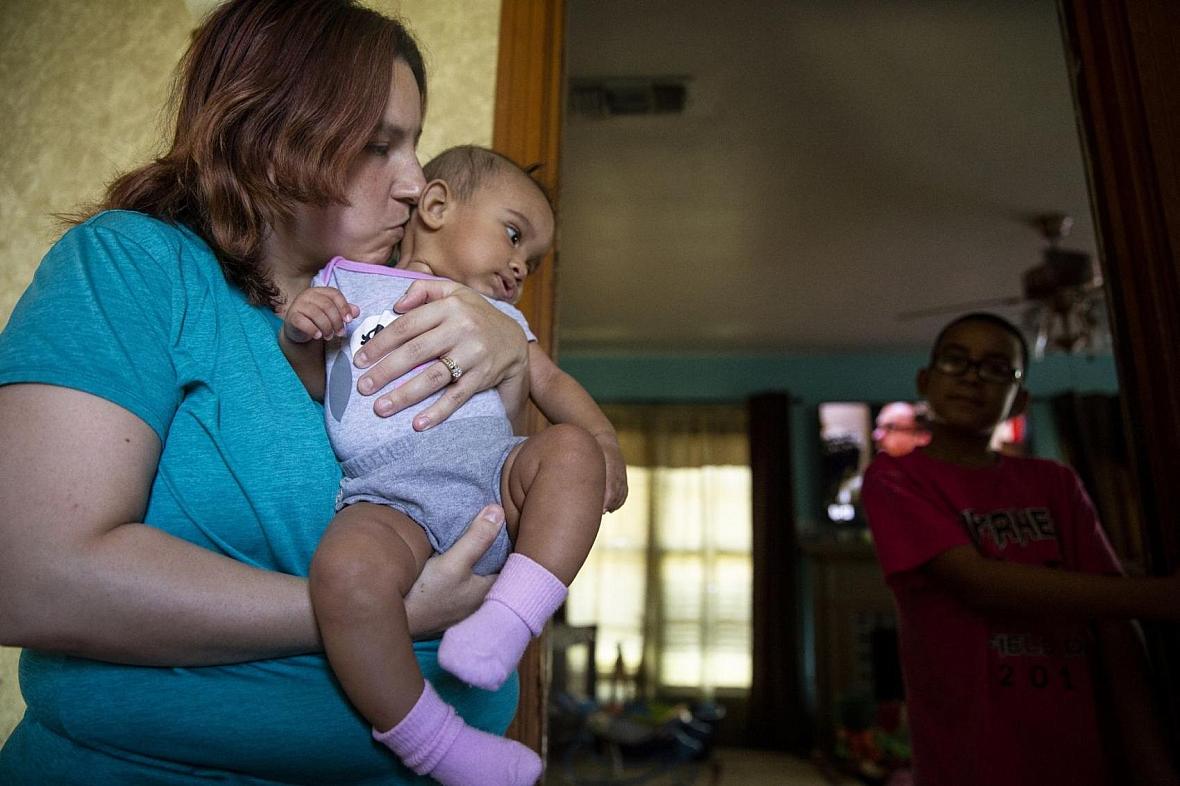 Published on
September 15, 2018
The bleach fumes make Angelica Castaneda's eyes burn, but watery eyes are better than her children falling ill because of mold.
Wearing athletic shorts and a teal T-shirt, the 30-year-old splashes a gallon of bleach onto baseboards in what used to be her children's play area – a room, now covered in water stains, where a fan dangles precariously from the ceiling. The mother of three doesn't like using the harsh chemicals, but she learned the hard way that a normal cleaning routine isn't enough.
This summer, her doctors diagnosed her then 6-month-old baby, Jasmin, with a respiratory infection – an ailment blamed in part on organisms that infested the walls and floors after Hurricane Harvey soaked her home in Refugio, a once-booming oil town along the Texas Gulf Coast.
After a course of antibiotics, Jasmin is healthy again. But her mother can't stop worrying: Was the mold also the culprit behind her toddler, Tiana's, allergies? And almost 10 months earlier, was the stress from ripping out soaked walls and floors the reason Castaneda went into early labor four times, then eventually delivered Jasmin a month and a half early?
Image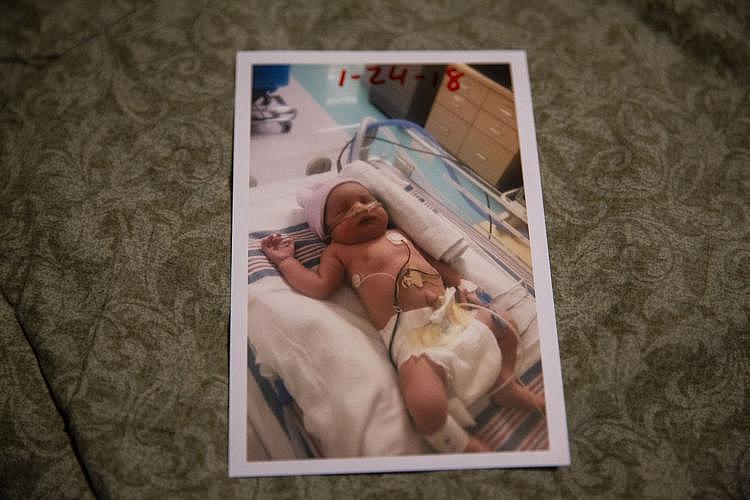 Image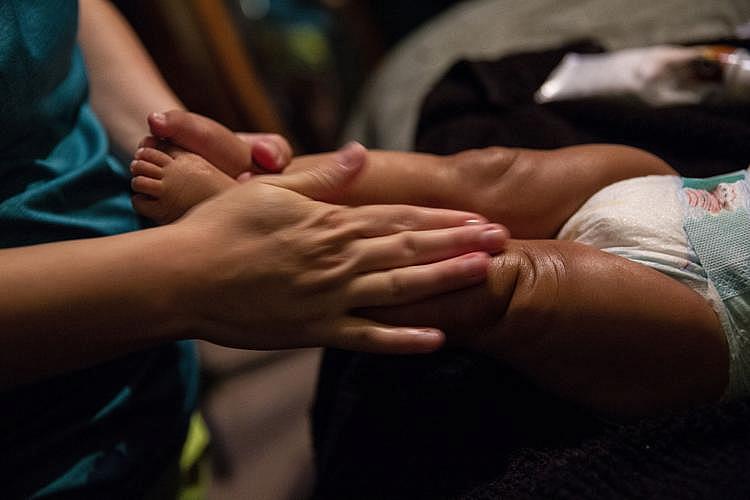 Sometimes, she feels anxious just thinking about it. So more than one year after Harvey, fans blow in every room of her home – all day, every day. The kitchen and playroom floors are mopped with bleach at least twice a day, and sometimes again about 3 a.m. when she lets her dogs out. Carpets are vacuumed twice a day. Air vents are wiped every other day. The bathroom closet is scrubbed for mold every other day.
"It's been pretty bad," says Castaneda. "But we're trying to do the best we can."
The mother, however, didn't always spend half of her waking hours cleaning. Her home didn't always smell like a mix of newborn baby, bleach and mold.
That was before Hurricane Harvey slammed the Texas Gulf Coast as a Category 4 hurricane Aug. 25, 2017, causing an estimated $125 billion in damage. Since then, recovery in many communities, particularly rural ones, has been erratic – and excruciatingly slow for some families like Castaneda's without the finances needed to rebuild.
More than one year later, no one is tracking exactly how many families are whole again. No one knows how many people are still fighting with insurance companies or how many still need help. But one fact is clear: Along with toppling mobile homes and blowing roofs off houses, Hurricane Harvey revealed a deep divide between the people in South Texas who could afford to rebuild – and everyone else.
A survey conducted in Harvey's wake by the Episcopal Health Foundation and Kaiser Family Foundation found that almost one-quarter of affected residents say the hurricane worsened their financial situation. And even without the complications of a Category 4 hurricane, a growing amount of research has shown that climbing up the economic ladder has become more and more difficult in America.
By no fault of their own, many people are born into poverty – but hard work isn't always enough to push them out. People working low-wage jobs often find it nearly impossible to pay monthly bills, let alone save for retirement. Pay for typical workers has stagnated, and debt – mortgages, student loans or credit cards, for example – is rampant.
The problems that come with wealth inequality are long-entrenched in the Texas Gulf Coast, where people like Castaneda are struggling to rebuild.
In Victoria, a regional hub for about 200,000 residents in seven rural counties nestled between Houston, Austin and San Antonio, the rich and poor live in vastly different realities. During the 1920s, Victoria was famous for its roses, lavish homes and cattle kings. It also was said to have more millionaires per capita than any other U.S. city. Almost a century later, data shows that wealth hasn't trickled down: A study using 2016 data found Victoria was among the top 11 percent of most unequal counties in the nation. On average, families in Victoria's top 1 percent earned almost 21 times more than families in the bottom 99 percent.
Then Harvey struck. Natural disasters, researchers find, often widen the economic gap between those who have the resources to rebuild and those who don't. A recent study by researchers at the University of Pittsburgh and Rice University found that people who are privileged in terms of race, education or homeownership generally see their wealth increase in disasters' aftermaths, in part because governments and citizens invest in their communities through government-funded projects and insurance payouts.
 

Image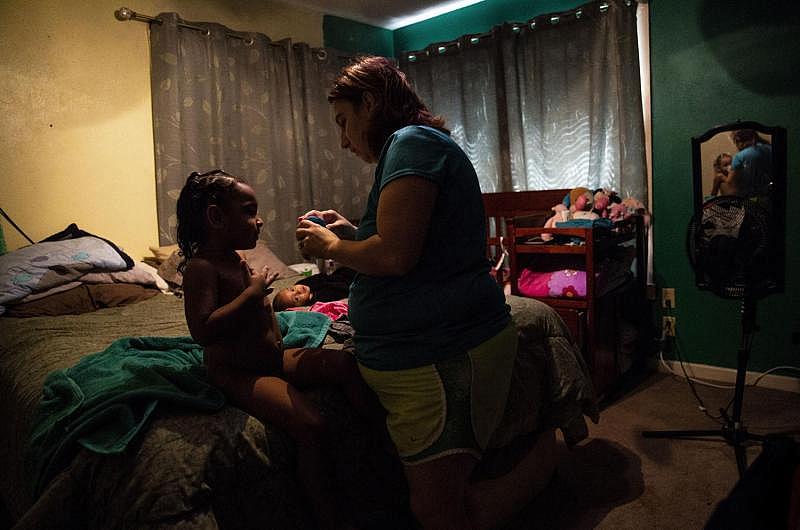 In contrast, less-privileged people are more likely to lose jobs, be forced to move and pay higher rents because of housing shortages, according to one of the study's authors. Vulnerable families – especially people of color, renters and those who are less educated – often lose wealth in the long term, making the gap between the people who can afford to rebuild and those who can't even wider.
HARVEY'S WAKE
It's not even noon, but Castaneda already has vacuumed her entire three-bedroom house; mopped the kitchen and former playroom; scrubbed the bathroom; and started a load of laundry. At least today, she doesn't have to clean the black-colored mold from the air vents – she finished that the day before.
Her toddler, however, is growing impatient. Tiana, wearing a sparkly princess dress that her mother bought off Facebook for $2, cries from her high chair in the living room. "It has to get done," Castaneda says while trying to appease her daughter with a sippy cup of juice. "You can't let it go more than two days because of the kids."
Image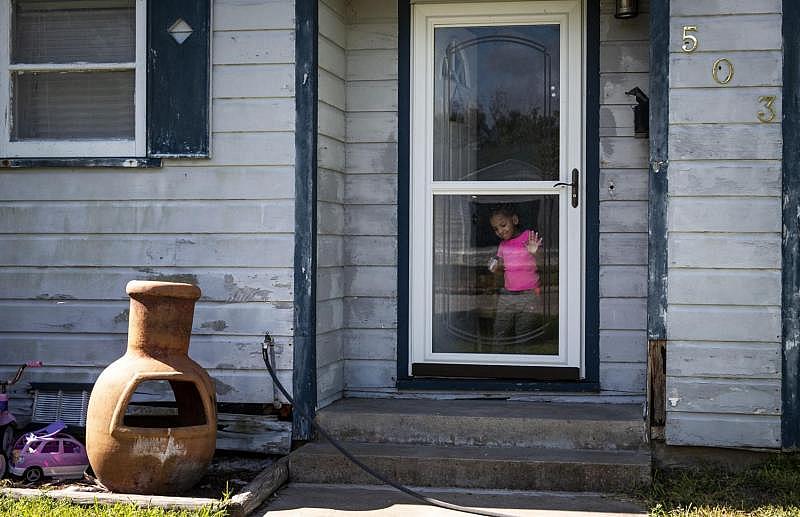 Castaneda tries her best to put her children first because she knows what it's like to have a mother who wasn't always there. As a teen, she regretfully left school in San Antonio to move with her mother to Mexico, where she took over the role as parent for her three younger siblings. A few years later, Castaneda and her siblings moved back to Texas, where she began working multiple jobs at nursing homes and caring for an elderly man to support her two sisters and brother.
More than a decade later, she credits her rough upbringing as the reason why she has coped with the stress of Harvey's aftermath. When the water heater stopped working, for example, she wasn't bothered by taking cold showers for weeks. Even when she was pregnant, her belly growing and feet swelling, she didn't mind ripping out moldy flooring and wall paper. When she went into early labor four times, she was calm enough to drive herself 48 miles along a rural highway to the doctor when her husband was busy working.
"All my life, I've been busy, busy, busy," she says, broom in hand while standing in her kitchen. "So when (Harvey) happened, it didn't get to me like it got to my husband because I'm used to cleaning up, getting up, falling down, then getting up.
Although her husband, Leonard Crane, spends almost all his time working as a truck driver, his paychecks haven't been enough to fix the home. The year before Harvey hit, the family's income was on par with the median family income in Refugio, which was about $57,000 per year. But after the hurricane, the family's annual income dropped roughly $10,000, in part because Castaneda's husband couldn't work for a few weeks. His situation is not unique: A survey conducted by the Episcopal Health Foundation and Kaiser Family Foundation three months after Harvey found that nearly half of those surveyed or someone else in their household lost job-related income because of the hurricane.
Image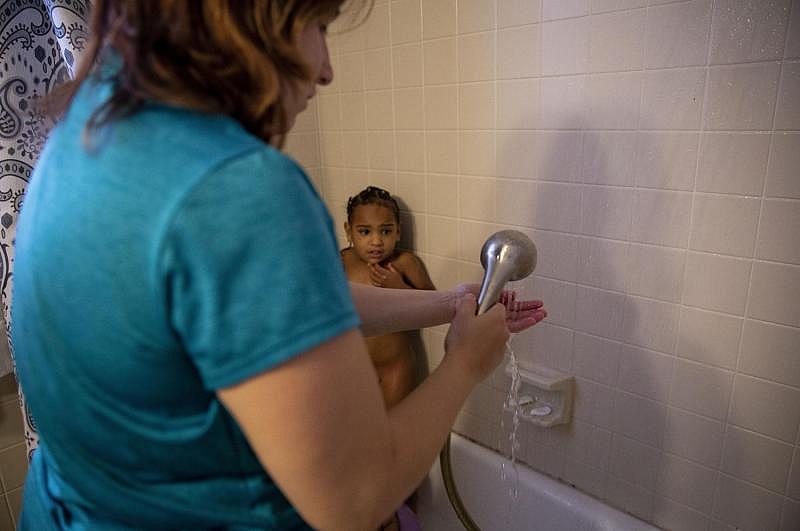 Castaneda's family got roughly $5,000 from home insurance, but that didn't cover all of Harvey's damage to the three-bedroom, one-bath house. The couple didn't want to rack up debt, so they emptied their savings account to pay to repair other damage. But that still wasn't enough to fix it all. The home's foundation shifted, a repair that's estimated to run up to $10,000. Part of the air-conditioning system must also be replaced, which comes with a $2,800 price tag. And that doesn't even include the soaked flooring, wallpaper and electrical wiring that also need to be fixed.
The mother of three doesn't know how her family will scrape up roughly $20,000 needed to finish repairs. If another hurricane hits, Castaneda says, her family will cut their losses, pack up and start renting a home in a city farther from the coast.
Her family's financial future, however, didn't always seem so bleak. As she nurses Jasmin from a bottle, she explains that she always donated used clothes and toys to other families in need. But this summer, scraping up enough money for diapers, baby wipes, medication, food, utilities, gas and school supplies is more than she can handle.
She isn't alone. After Harvey, many people, particularly those who are black, Hispanic or have lower incomes, reported having problems paying for food or borrowing money from friends and relatives to make ends meet, according to the survey conducted a year after Harvey. One-third of affected residents also say they fell behind in paying rent or mortgages.
That situation is all too familiar for Castaneda. Desperate, she called 2-1-1, a resource line that links families in need with resources. That's when she was told about a local group working to help Refugio County recover after Harvey.
She was told that, maybe, the group would be able to help her.
'I'M NOT GOING TO STOP'
A woman with a long, blonde braid emerges from a white Toyota 4runner parked in front of Castaneda's home. Armed with a clipboard, rubber gloves and a face mask, the woman introduces herself as Debbie Montalvo, a case manager for the Refugio County Volunteer Reception Center. The group is one of the only agencies based in Refugio that's working to help residents rebuild after Hurricane Harvey.
Montalvo wears bright blue eyeliner that matches the color of her T-shirt that reads, "We will rebuild" – a slogan that she came up with. With a warm smile, Montalvo, 51, asks Castaneda to show her the home, while asking a series of questions about mold, insurance payouts and government assistance – the latter of which the family got very little of.
Image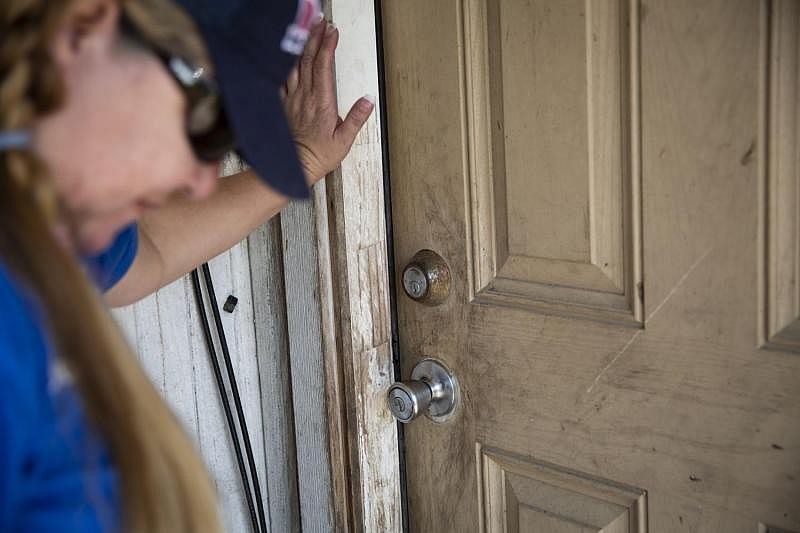 If you met Montalvo on the street, there would be no way of telling that just months ago, she was living out of the same SUV parked in front of Castaneda's light-blue home.
After Hurricane Harvey shattered windows and ripped off the roof of Montalvo's home in a town 6 miles away, she found herself sleeping in the bathroom, often with crippling anxiety because it was the smallest room to heat on cold nights after she gutted the moldy drywall and insulation. "I had two blankets ... I had to use blue jeans for a pillow," Montalvo recalls. "And that's how I slept."
Eventually, even that came to an end.
By early 2018, she was living from her car and desperate for help. One day, she was driving along U.S. 77 through Refugio – population 2,866 – when she saw a sign for the Refugio County Volunteer Reception Center. She didn't know what it was, but pulled over and went inside. A woman greeted her, and they began talking about the months since Harvey.
"I just broke down," Montalvo says. "And I said, 'I need help.'"
After their conversation, Montalvo decided to become a volunteer. Within weeks, she learned that helping others made her feel better – her anxiety lessened, and for the first time, she felt comfortable talking with strangers. Two months later, she was offered a full-time job as a case manager.
Image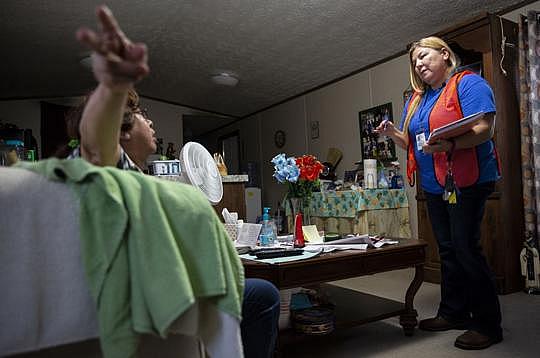 Montalvo is now tasked with piecing together lives, like Castaneda and her family, that were fractured by Harvey. For Montalvo, it's personal – she grew up in the 1970s in Refugio, which she remembers as a thriving small town where doors were left unlocked and neighbors shared meals together. But in the decades since then, the town's population dropped by nearly 40 percent, the effect of a steady exodus as oil and gas production dwindled. That trend has continued in recent years, and since 2000 alone, the county's labor force dropped about 16 percent, according to state data.
It is in this town where Montalvo spends much of her time driving from home to home, photographing damaged houses and documenting their occupants' struggles. She knows many of the people she meets. Often, they went to the same high school.
Image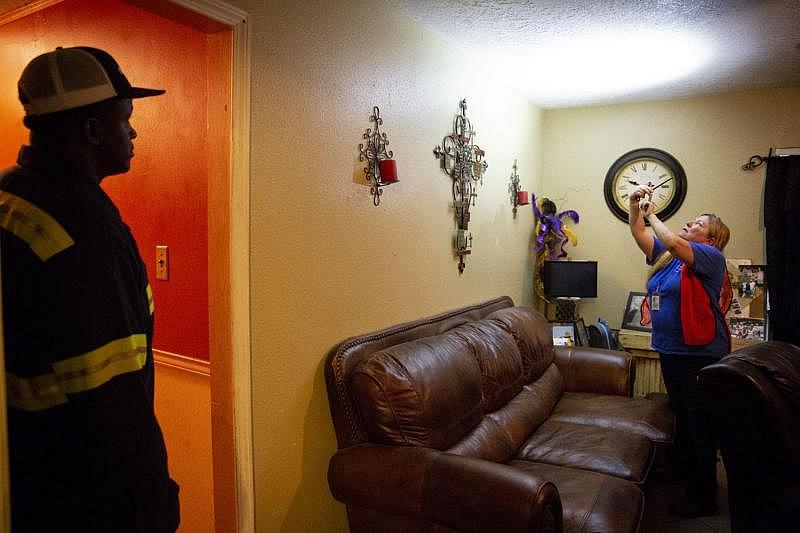 She tries to give them hope by holding their hands, praying and laughing with them. But the stories are grim. In the office tucked away in a church where she works, there are hundreds of multicolored Post-it notes stuck to a wall, each representing a family who needs help.
"There's just so much to be done here," says Montalvo. "And I'm not going to stop."
Montalvo feels guilty she can't help all the families – especially since she was one of the few lucky homeowners selected by a nonprofit that rebuilds homes. One of her most heart-wrenching cases is a 70-year-old Vietnam veteran who still lives in his car. Then, there's the family in Tivoli, a rural town of 500 residents, who didn't have running water almost nine months after Harvey. And during the summer, she spoke with a family who has an adult son with a disability; they flipped a coin each night to decide who sleeps in the only bed they have left.
Those stories underscore the reality of life after Hurricane Harvey – without something close to a miracle, people who didn't have the resources to begin with are not able to rebuild.
Image
'AT LEAST WE'RE HEALTHY'
Baby pictures and a photo of Castaneda's wedding hang neatly from clothespins tied to a bulletin board in her kitchen, just below a Post-it note with Montalvo's phone number written on it.
The note serves as a daily reminder that weeks have passed since Montalvo came by the home, where she took notes about the damage and filed the information away with dozens of other tragic stories. So far, few volunteers have come to Refugio, a county of just 7,300 people that must compete with larger communities like Houston and Rockport for resources to rebuild. The agency in charge of recovery in Refugio has received only $825,000, but estimates it needs roughly $4 million to help all of the families become whole.
Despite Montalvo's best efforts, that means many families, like Castaneda's, will see little help until more volunteers and funding arrive.
"Refugio doesn't get much help," says Castaneda, who sits on the couch next to her 11-year-old son and infant in a bouncer to catch a breath between cleaning and making lunch for her children.
Image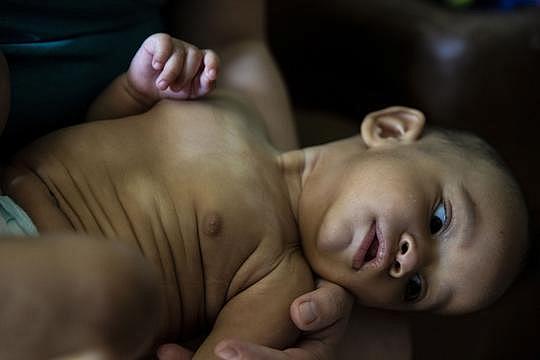 Raising an infant, toddler and preteen is exhausting, but today she feels especially tired. The night before, she was up past 2 a.m. after a long day that included driving her son 90 miles round trip to a doctor's appointment, then returning to Refugio to make dinner for her husband before he hit the road for work. After dinner, she drove another 90 miles round trip to go grocery shopping in a bigger city, where the produce is less likely to spoil than when it's bought at the lone grocery store in her rural town. Then she spent the rest of the evening finishing her militant cleaning routine.
This is her reality after Harvey. When she starts to feel overwhelmed, she reminds herself: It could be worse. She could have lost her entire home and all her belongings, as did many other families in Refugio. Local officials estimate almost 60 percent of the Refugio's 3,700 housing units were severely damaged or destroyed by Harvey – including one of the largest affordable housing complexes – in a county where an estimated one-fourth of children lived below the poverty level before the storm.
"I told my husband, 'Don't feel bad we're living paycheck to paycheck,'" says Castaneda. "At least we're healthy, and we're together."
But it's still hard, she says, no doubt. Every once in a while, she's been forced to borrow $10 from her neighbor to buy milk for her children – a stark difference from life before Harvey, when she used to buy each of her children a new toy each month. She hasn't even begun to think about replacing her own clothes after Harvey ruined everything except three pairs of pants, two dresses and pajamas.
Image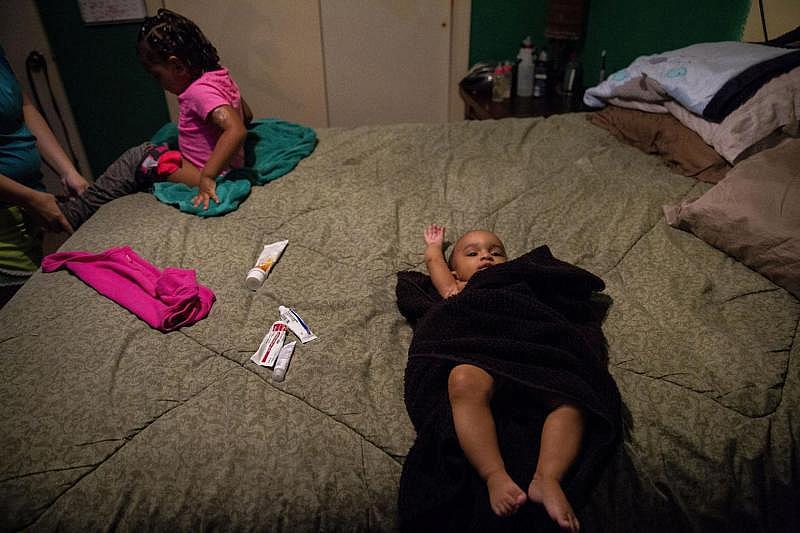 With every passing week, she's finding it harder and harder to believe that her family will get the help they need to rebuild. Because no matter how hard she cleans, it won't be enough to reverse the damage that Harvey caused. No matter how many hours her husband works, his paychecks won't be enough to pay for all the repairs any time soon.
Still, she tries to set a good example for her children, neatly making their beds and reminding them to finish chores, even if the walls around them are infested with mold. Because one day, she hopes, life for her family will return to normal.
Maybe one day, the American Dream will be in reach.
[This story was originally published by Victoria Advocate.]