Maravilla Senior Living Community Held Earth Day Celebration for First Post-Vaccination Gathering
This story is part of a larger project by Brooke Holland, a 2020 Data Fellow who is exploring the government and community partnerships in Santa Barbara County that aim to help those at greater risk of contracting COVID-19, such as residents in skilled nursing homes, migrant farm workers, jail inmates, college students and people experiencing homelessness. 
Her other stories include:
To Reach Santa Barbara County's Vulnerable, Public Health Targeted COVID-19 Testing, Drop-In Sites
Coronavirus 'spread extremely easily' in skilled-nursing facilities, with deadly consequences
Santa Barbara County Public Health Partnered with Congregate Facilities on Virus Prevention
In Post-Vaccination Life, Residents Return to Lunches, Events, Visits at Long-Term Care Facilities
Prevention Efforts Aimed at Farmworkers Crucial in County's Fight Against COVID-19
Santa Barbara County Farmworker Advocates, Agricultural Businesses Reflect on Pandemic
Image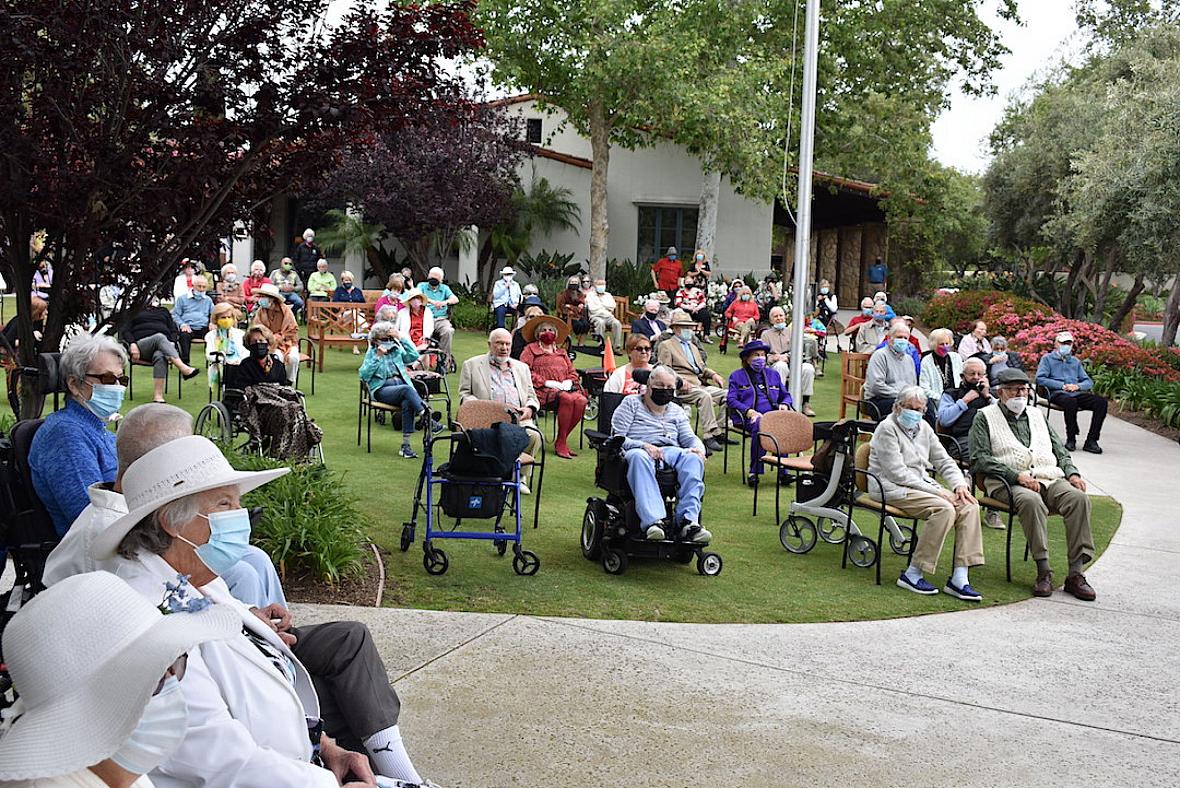 (Brooke Holland / Noozhawk photo)
Published on
June 7, 2021
[Noozhawk's Note: This story is one in an exclusive series investigating the toll of COVID-19 outbreaks in Santa Barbara County skilled nursing facilities and other long-term care facilities, efforts to prevent and contain coronavirus outbreaks at these facilities, and what post-vaccination life has been like for residents.]
Sid Krumholz decided to temporarily move out of his senior living community in Goleta and stay at his daughter's house during the COVID-19 pandemic.
The 96-year-old said he visited Maravilla retirement community every week to pick up his mail and pay bills.
"I made it my business to keep in touch here throughout the year," he told Noozhawk.
Krumholz lived with his daughter in Montecito for about a year as the novel coronavirus and public health restrictions changed everyday life around the world. 
"The reason for that was the manner of handling the meals," he said. "All our meals were sent to our rooms for the safety of the residents, and there's no question about that. My daughter invited me to stay. I did."
The dining area onsite is not just a place to eat, Krumholz said, it's a place to socialize.
"That's what we're here for," he said. "We're here so you don't have to live alone in a home someplace. I'm happy I'm here."
Before the COVID-19 pandemic, Krumholz, an independent-living resident, would eat his breakfast and dinner in Maravilla's communal dining space.
Krumholz said he "wasn't too happy with eating in my room every day, but now that's gone." 
Maravilla residents are now sharing meals as a group. 
"I hated the restrictions of not being able to do what I wanted to do," said Krumholz, who is originally from New Jersey. "I'm pretty independent. Being Italian, it's a little bit tough to have somebody else telling you what to do."
Krumholz wasn't sure he wanted to get the COVID-19 vaccine, he said, "but I did, and I'm glad I did, because I think it allows me to do a lot of things without question."
Nearly 25,000 Santa Barbara County residents ages 75 and older are fully vaccinated for COVID-19, according to the county Public Health Department. 
Residents over the age of 70 account for about 72% of local COVID-19-related deaths and about 7% of the county's positive COVID-19 cases, according to county data.
New cases of COVID-19 among the county's 70-plus population plunged from nearly 850 in January to about 40 in April. 
Early vaccine doses were directed to long-term care facilities since senior residents in congregate living facilities have a higher risk of infection and severe illness from the virus. 
Despite safety precautions, the virus spread extremely easily in these types of facilities, and the county Public Health Department has reported 170 COVID-19 deaths related to outbreaks in congregate-care facilities. Hundreds of residents and workers have tested positive. 
Most of the fatal congregate-care outbreaks happened in long-term care facilities for the elderly, including skilled nursing, assisted living and independent living, according to information obtained by Noozhawk through public records requests. 
Maravilla, like many senior facilities housing vulnerable residents, restricted visitors and suspended large group activities and outings during the pandemic as part of its public health response.
Bill Cattoi, an independent-living resident, praised the staff's level of response.  
"They were strict," Cattoi said. "They bent over backward to make sure that we were safe. That posed a lot of problems because we couldn't eat in the dining room anymore, or meetings, or have an activity of any kind."
Many senior residents in congregate living facilities had limited socialization during the pandemic restrictions, and many enrichment activities were canceled for long-term care residents.
"Being in your room alone for all that period is a tough time," Cattoi said. "I must admit that the administration did their best to keep things under control. And to provide as much as they could, with the restrictions they were under."
Coming Together for Earth Day Celebration in First In-Person Gathering
This April, Maravilla residents and staff had something to celebrate. 

Image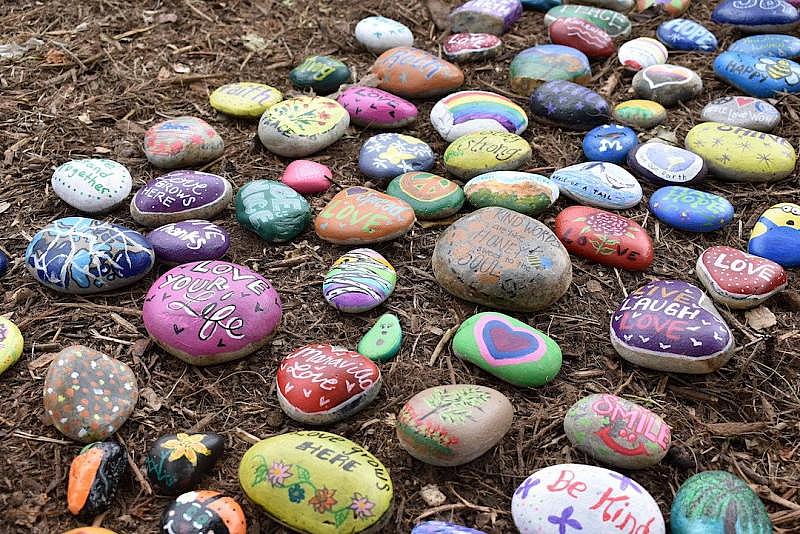 More than 50 residents were seated together — socially distanced — in the outdoor courtyard.
During in-person Earth Day events, Senior Resource Group's 32 communities nationwide planted magnolia trees as a commemorative remembrance of growth through the experience of the pandemic.  
Maravilla residents and staff painted small rocks to represent their strength, and placed them around the two magnolia trees at the Goleta site. 
The residents were treated to a poetry reading, and a reception featuring food, sparkling wine and sparkling cider. 
People mingled with one another and had lunch together during a poolside reception in the afternoon sunshine. 
It was the first major organized event Maravilla had hosted onsite since the pandemic struck last year.

Image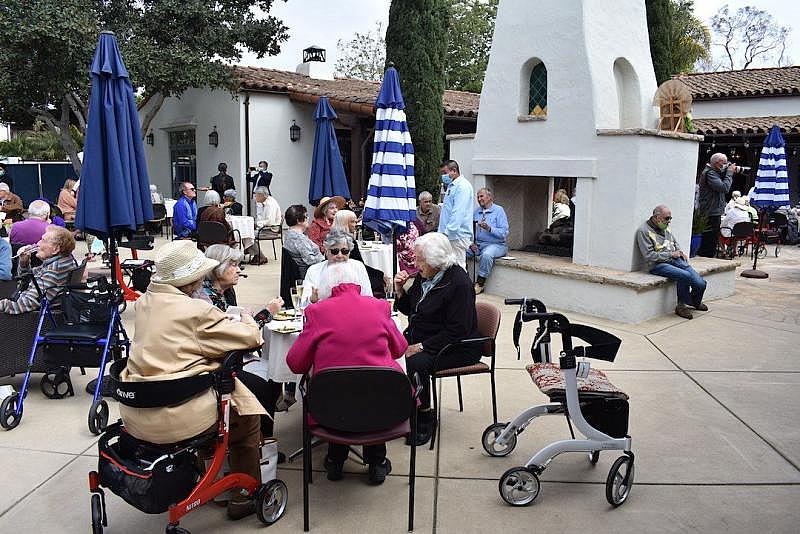 "If the vaccinations are going to do any good, then let us get together and prove the effectiveness of the vaccinations," Cattoi said.
During the Earth Day event, Ruth Grande, the executive director at Maravilla, expressed a deep sense of gratitude for the opportunity to come together in-person after so many isolated months.
"Just think of how far we've come together," Grande said. "Together, we've ridden on the COVID roller coaster since February of 2020. This roller coaster ride was not very fun and could be scary at times."
Pandemic-related public health restrictions forced people to stop hugging and touching to avoid being exposed to the potentially deadly virus.
"Did any of us ever think there would be a time in our lives where our best chance of avoiding serious illness or death would be to isolate, stay at home, stop our normal lives, stop shopping, and stop getting our hair done," Grande said. "Stop. Stop. Stop.
"While all of those stops were annoying and frustrating, this pandemic has reminded us about a good stop," she added. "That's to stop sweating the small stuff, and focus on what matters."
Across the United States, skilled-nursing facilities reported an average of three novel coronavirus outbreaks between May 2020 and January 2021, according to a new report from the U.S. Government Accountability Office.
The GAO report analyses data from the U.S. Centers for Disease Control and Prevention, and it's a sample of more than 13,300 skilled-nursing facilities. 
Image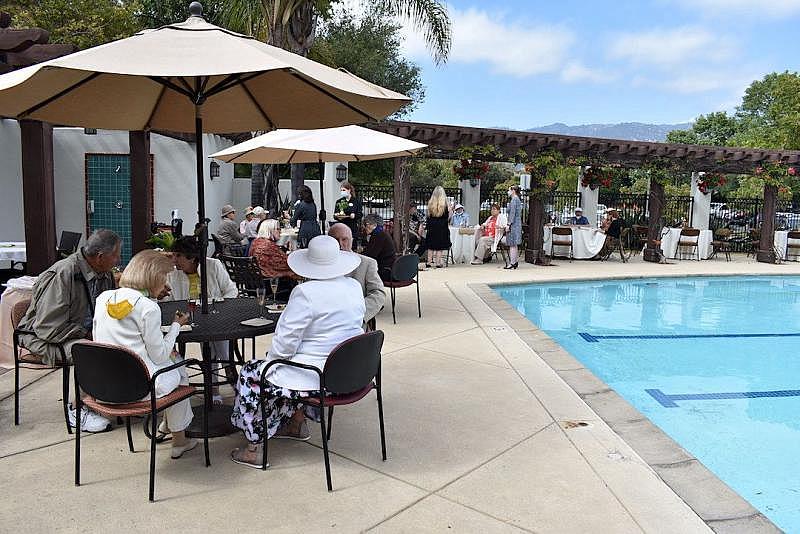 About 85% of facilities had at least one outbreak lasting more than five weeks, the report stated. 
More than 65% of the U.S. nursing homes reported that an outbreak started with a staff member who tested positive for the virus; 19% reported residents and staff were identified with cases in the first week of the outbreak; 16% reported cases in residents first," according to GAO's findings.
"According to CDC, an outbreak starts the week a nursing home reports a new resident or staff COVID-19 case, and ends when there are two weeks with no new cases," the report stated.
During pandemic-related restrictions, residents at Maravilla and other senior living communities managed to communicate with others through video calls, but it just wasn't the same.
"There's nothing like face-to-face communication," Grande said.
As of late May, 98% of Maravilla residents were vaccinated for COVID-19, and throughout Santa Barbara County, there have been no positive cases reported among skilled-nursing residents since Feb. 22.
Speaking at the Earth Day event, Grande said the occasion marked a time to move forward.
"Having gone through this pandemic together, we look at things a little differently," Grande said. "Hopefully, we have more appreciation for life, for freedom, for family, for teamwork, for fresh air, for friendships, and perhaps we will leave and head down a new path of creating an even closer community."
This year is going to be a year of healing, recovery, and a joyful return to normalcy for the Maravilla retirement community, she concluded, to applause from the gathered residents. 
"Now, let's go to the poolside and have some fun," she told the crowd. 
— Noozhawk staff writer Brooke Holland reported this story while participating in the USC Annenberg Center for Health Journalism's 2020 Data Fellowship. She can be reached at bholland@noozhawk.com. Follow Noozhawk on Twitter: @noozhawk, @NoozhawkNews and @NoozhawkBiz. Connect with Noozhawk on Facebook.
[This story was originally published by Noozhawk.]
Did you like this story? Your support means a lot! Your tax-deductible donation will advance our mission of supporting journalism as a catalyst for change.