Military-Style Drug War in Tenderloin Sparks Fears That More Drug Users Could Overdose
Image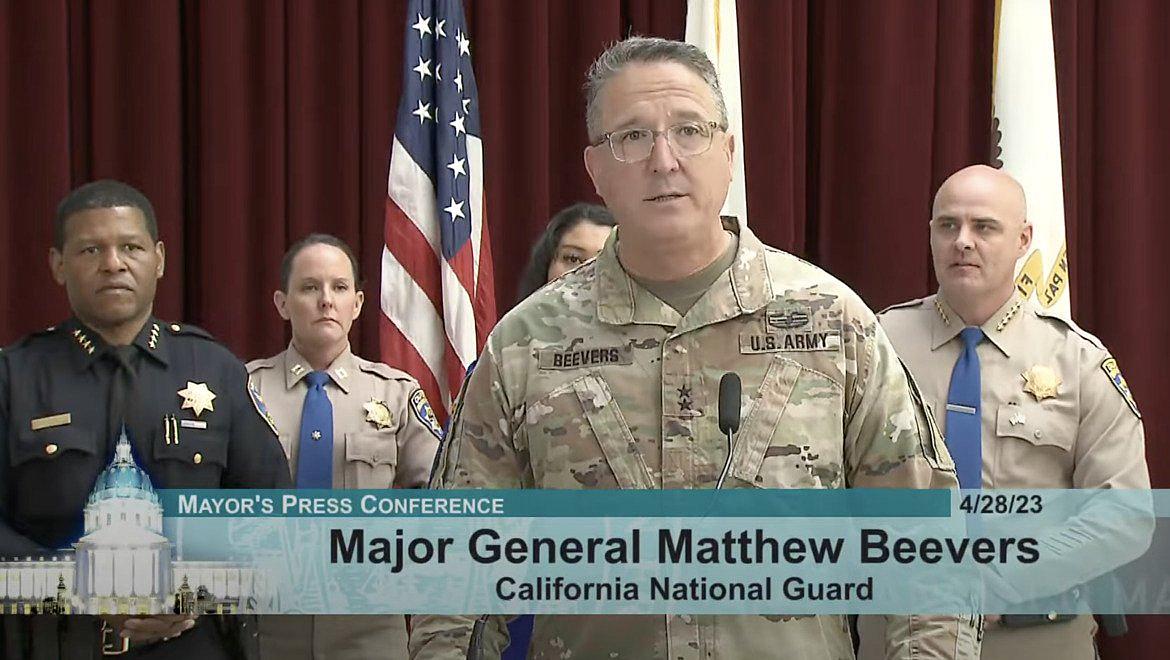 Last week's deployment of the National Guard and California Highway Patrol onto San Francisco's streets to crack down on drugs comes amid intense public pressure to address open air drug use and sales.
"People are fed up with it," said San Francisco Police Chief Bill Scott at a news conference on Friday. "We are fed up with it. And our attention needs to be on the people who are causing the problems, not on each other."
But the emphasis on law enforcement for addressing the city's drug crisis has distressed public defense attorneys and harm reduction advocates who fear the move may worsen the rate of fatal overdoses.
"Right now, we're losing four people a day to overdose deaths on the street, and that's up from two a day from last year," said Sujung Kim, an attorney at the San Francisco Public Defender's Office. "Driving everything underground is part of what makes it so unsafe."
Kim said she would love to see fewer people addicted to drugs, but cracking down on street level dealing will only worsen fatalities because people will be less likely to call 911 for fear of arrest, and it will drive drug users to buy from unfamiliar sources, heightening the risk of overdose.
Research has shown that incarceration increases risk of overdose. According to a study by the Oregon Health & Science University, Oregon State University and the Oregon Department of Corrections that was published last month in the Journal of Substance Use and Addiction Treatment, people recently released from incarceration face a risk of opioid overdose 10 times greater than the general public.
Gov. Gavin Newsom's announcement on April 21 that he was sending the National Guard and Highway Patrol to San Francisco stated that the new law enforcement partnership would not target drug users, only drug dealers and traffickers.
Scott reiterated that the operation would target drug dealers. But he suggested that police would also focus on open drug use, saying, "It's not OK — not only to deal drugs on the streets, but to use drugs on the streets."
Matthew Beevers, deputy adjutant general of the California National Guard, said at Friday's news conference that he wanted to "dispel rumors" that the military's involvement would include "boots on the ground in San Francisco." Instead, he said, the soldiers and airmen would synthesize information gathered by all enforcement agencies into "actionable information that we can map."
They would track "cartel networks both operating in the city and outside the city — understand those networks, build a common operating picture of it, and then work to dismantle those networks," Beevers said.
Gary McCoy, vice president of policy and public affairs for HealthRight 360, which is contracted to run numerous harm reduction programs in the city, said he understood the pressure facing city officials and law enforcement, but believed it to be the wrong approach.
"I think that folks are just very frustrated with where we're at right now, with what they're seeing that's more visible in the streets," McCoy said. "But really, the challenges that we're seeing on the streets right now are largely due to the war on drugs, and it's been the punitive approaches to people who use drugs and the high rates of incarceration."
McCoy advocates reducing drug demand by stepping up access to long-term treatment, and by taking a more forgiving approach to recovery, in which individuals are not kicked out of residential treatment facilities for briefly returning to drug use. He added that 90-day residential treatment programs were not enough to get people with substance use disorder stabilized. Although a new two-year "step-down" facility just opened on Treasure Island offering 70 spots, a lot more is needed, he said.
"The ideal number of step-down beds would be three to four times the amount of residential treatment beds, because you're cycling more people out of residential treatment," he said. "We're getting there. The city's made fast improvements to that stock."
There are currently a total of 245 residential treatment beds in San Francisco and 193 step-down beds.
Studying Divergent Approaches
Alex Kral is an epidemiologist with independent research institute RTI International who has been studying harm reduction programs for more than 30 years. Kral said he was baffled by the law enforcement approach because no research has shown that expending resources and efforts on reducing drug supply has led to either reduced demand or reduced health complications related to drug use. Since the adoption of the Controlled Substances Act of 1970, he said, resources dedicated to drug supply law enforcement have "far outspent" measures to prevent drug addiction, provide treatment and reduce harm. Meanwhile, "We've just seen things get worse and worse and worse."
"I get it," Kral said. "If you don't understand much about drug use or drug markets or any of that, it makes sense to me that people are like 'Well, if we just prevent there being drugs in the community, it will stop.' But this is not how it's ever worked in any society in the world. And definitely the U.S. is a prime example of a place where this has turned out miserably for 50 years."
In 2008, the Brookings Institution analyzed three approaches to global counternarcotics policies: "the punishment model" of the U.S., which uses incarceration to deter use; "the depenalization model" used in Italy and Spain, which keeps illicit drugs illegal but does not punish personal use below certain amounts; and "the decriminalization model" used in the Netherlands. Findings were most critical of the punishment model of the U.S., where incarceration rates have soared — to more than 350,000 in 2023 from fewer than 50,000 people in 1980 — costing billions in taxes while few prisoners have access to any form of drug treatment.
Drug courts, which were meant to divert defendants into treatment, largely failed at providing treatment to those who truly needed it, and filled up limited spaces with court-mandated patients who did not always need the care, according to research by Physicians for Human Rights.
Mayor London Breed said at Friday's news conference that the operation in San Francisco differs from the war on drugs of the 1980s, because back then, "everything was about arrest, lock people up." Now, she said, the city provides "extremely generous" social services.
Nevertheless, the Public Defender's Office has seen increased prosecutions for low-level drug sales, which are "filling up our jails," Kim said. And defendants are often subsistence drug dealers, meaning they sell drugs to fund their own addictions.
District Attorney's Aggressive Tactics
Andi Gernaey is harm reduction director of the St. James Infirmary. Gernaey leads a team that travels by van to the Mission District to distribute hygiene kits, harm reduction supplies, food and other necessities.
Gernaey said the crackdown is in keeping with "draconian" measures from law enforcement that have been seen since Brooke Jenkins took over as San Francisco's district attorney, including installing barriers along certain streets in the Mission to disrupt sex work.
"A lot of time they just use it as an excuse to harass people and search people and detain people, and then they end up not filing formal charges because they're more like nuisance charges than what holds up in court," Gernaey said.
Not knowing what's planned for the stepped-up enforcement is causing anxiety among the team members, who worry that officers will not understand what they are doing there. Gernaey said they advised the team to be wary.
"If we are approached by police or military," Gernaey told the workers, "just like, don't say anything, say you'll get your supervisor, and then I'll talk with them because we're allowed to do what we're doing."
Sean Duryee, commissioner of the California Highway Patrol, said at Friday's conference that his officers would be patrolling and executing arrests. He did not disclose the number of officers involved in the operation but said that 75 officers are currently assigned to San Francisco with nine more arriving in June.
Jenkins said the operation would help combat the "human trafficking defense." She said suspects often speciously claim to have been forced into selling drugs under threats to them or their families.
"I am very excited at the prospect of having additional resources to be able to dispel the notion that people are not here dealing drugs of their own accord, because that is clearly what is happening," Jenkins said.
Kim said that as an attorney at the Public Defender's Office, she had heard "horrific" firsthand accounts from people arrested for dealing drugs, some as young as 17, who had witnessed gang violence in Central America and knew what MS-13 was capable of.
"Brooke Jenkins could deny all she wants, but two of her attorneys lost cases last year where the juries heard their stories," Kim said. "One of them, they had to pay coyotes to come over here to escape violence, and they were under threat of death, forced to sell drugs. And the juries believed the defense. I'm not saying it's every single case, but it happens more often than people might know."