Mobile health clinics might be a way to reduce ER visits in Southern California
Image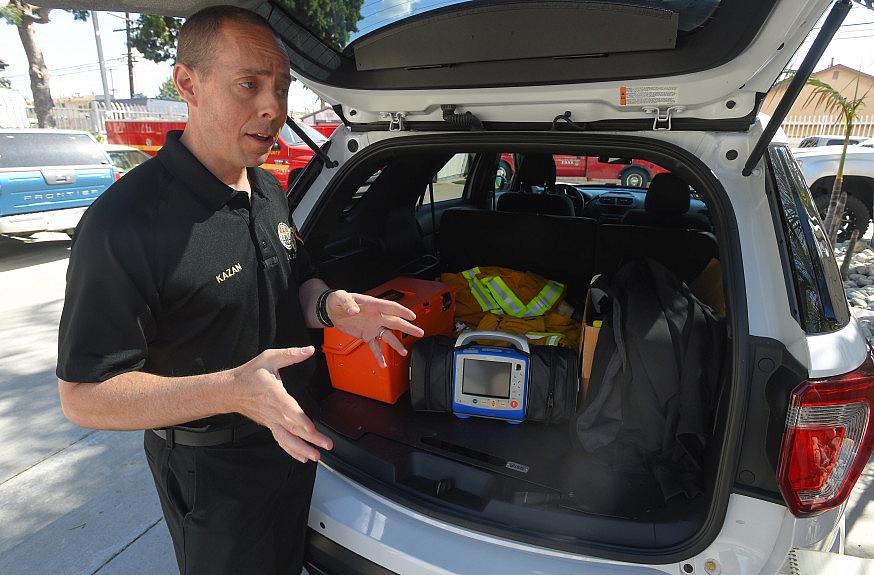 Published on
June 13, 2018
Fourth in a four-part series that examines emergency room use in Southern California.
The 911 calls come from all corners of northern Los Angeles County's rural desert communities: Asthma attack. Elders on their own who have run out of prescription drugs and need help. Alcohol-induced illnesses. Mental health-related episodes.
Those are the calls Dr. Clayton Kazan wants, the kinds of ailments he knows he can fix with a lock box filled with emergency medications and an electrocardiogram that he carries in his Ford Explorer.
His equipment and tools may be low-tech, especially compared to the smartphone apps and telehealth devices hospitals nationwide are experimenting with to steer non-life threatening illnesses away from their emergency departments.
But the lock box contains what Kazan calls a more personal way of helping residents across the vast and mostly rural Antelope Valley, where primary and specialty care remains challenging to find, even among the insured.
Overflow
Image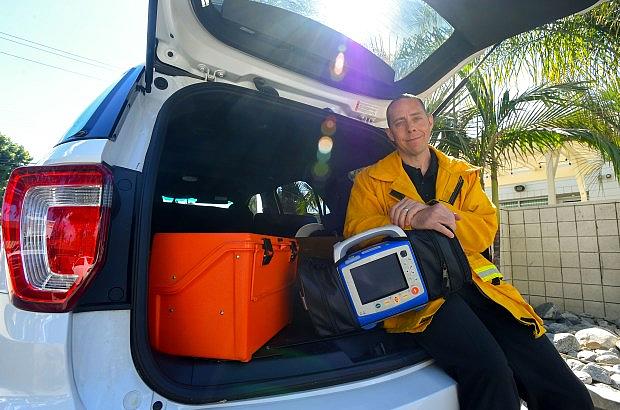 The lack of doctors, of community clinics that open for 24 hours to help the bulk of newly insured residents have caused an overflow into emergency departments across Los Angeles County, but especially on its edges.
"We need to look at the Emergency Department as a critical resource to the people who need it most," said Kazan, the Medical Director for the Los Angeles County Fire Department. "Right now our ERs are all at capacity."
The numbers back him up.
In 2016, emergency departments in Southern California together received nearly 6.5 million visits and admissions, about 1.4 million more than in 2010, according to a Southern California News Group analysis of data from the state's Office of Statewide Health Planning and Development.
That amounts to a 27 percent rise in patient encounters in six years, well outpacing an overall population growth of about 5 percent in Los Angeles, Orange, Riverside, and San Bernardino counties.
At the same time, new Medi-Cal sign-ups have offset a shrinking share of the uninsured and those with private coverage. Nearly half of Southern Californians with insurance have Medi-Cal; its recipients make up a growing group that has more than doubled locally since 2010 to 2.8 million in 2016.
And there was a gradual rise in emergency room visits that did not result in admissions, indicating hospitals are fielding more non-emergencies than they used to.
Kazan and his SUV are part of a Los Angeles County Fire Department pilot project to test out a a mobile integrated healthcare unit. The goal is to see if a "healthcare on wheels" model can help alleviate crowded emergency departments by steering 911 callers toward urgent cares and other options available to them in the community.
911 calls up
As an attending physician for Los Angeles County USC, Kazan has seen the number of emergency department visits rise since a key provision under the Affordable Care Act went into effect in 2014, which mandated that all American citizens and U.S. residents buy health coverage or pay a hefty fine at tax time.
While Kazan and many others agree that it's good more Americans have health coverage, the calls that come into 911 show that people still don't know where to turn for care. Many homeless people who call an ambulance for care are dealing with mental health issues, or have used drugs or alcohol to self-medicate.
"People call 911, because they don't know what else to do," Kazan said.
Of the more than 70 emergency departments across Los Angeles County, most go on diversion once a day, or ask paramedics to take patients elsewhere, he said, because ERs are at capacity.
That is a cause for concern, Kazan said, especially in an event of mass casualties, such as the recent mass shooting in Parkland, Florida, where 17 students were gunned down, or the concert shooting in Las Vegas last year, where 58 people were killed and more than 100 injured.
People call 911, because they don't know what else to do.
Los Angeles recently caught a glimpse of its own emergency network on overdrive. In 2016, dozens of homeless people in the city's Skid Row area became sick after smoking a tainted batch of Spice, a cheap, synthetic marijuana sold on the streets. The incident prompted a massive emergency response.
In one day, at least 50 people were evaluated within a few blocks of downtown Los Angeles — 38 of them were hospitalized.
Dr. Marc Eckstein, medical director for the Los Angeles Fire Department, told reporters then that emergency personnel were stretched thin and that a dozen LAFD ambulances and 75 firefighters had to be diverted to Skid Row because of the drug.
"It's taxing city resources," Eckstein said.
Los Angeles County fire Chief Deputy David Richardson Jr., who oversees emergency operations, told the Los Angeles County Board of Supervisors at the Jan. 9 weekly public meeting that the volume of 911 calls was up significantly and the department expected to field more than 400,000 calls for emergency medical services in 2018.
"The 911 system becomes the default healthcare provider," Richardson said.
As a result of his testimony, the Board later voted to look into if mobile health units can be implemented.
"Our safety net has become increasingly stretched," Supervisor Kathryn Barger wrote in her motion. "Growths in paramedic units and Emergency Department beds have not been able to keep up with the rising demand for their services. Our paramedic units are ever busier, and our Emergency Departments function at or above their capacity on most days, as evidenced by ambulances forced to wait to offload their patients.
"Our safety net is so full that it lacks surge capacity, and even a predictable rise in volume from a flu season coming a month early is enough to imperil our system and community health."
Their decision followed a series of discussions by the Board on how to expand the role of paramedics to take homeless people with mental health care needs to urgent care centers that can provide specific care, instead of emergency rooms.
"We need to look at changing the whole model of healthcare delivery," Kazan told the board at the time. The Board noted the Los Angeles Fire Department was able to establish a mobile unit to take people to a Sobering Center in downtown LA's Skid Row.
Drugs and alcohol
The center opened in 2017 to help reduce incarcerations as well as minimize hospitalizations by providing drug and alcohol treatment. Currently, only law enforcement officers and paramedics from the City of Los Angeles can take people to the 50-bed center on Maple Avenue.
But city and county officials have noted that the beds are underused.
That's because, in general, county paramedics don't currently have the freedom to drop someone who is drunk or high at a sobering center. Once they respond to a medical emergency, they are required by state law to head to an emergency room, sometimes waiting for hours with patients before they can get back to work answering calls.
Larger drug problems persist. Amid a national epidemic of opioid abuse, emergency departments across California in 2016 saw more than twice as many opioid-related encounters than in 2010 amid a swelling national opioid epidemic.
Hospitals across the state saw about 63,000 opioid-related visits and admissions in 2010, and saw thousands more year-over-year, totaling about 138,000 in 2016, according to state health data.
The burgeoning drug and alcohol rehab industry in Southern California — the so-called "Rehab Riviera" that draws those seeking treatment from across the country — puts local emergency departments on the front lines to treat relapsing newcomers.
Kazan has said that emergency rooms aren't well equipped to deal with substance abuse, and that personnel can offer little beyond stabilizing the patient and then sending them back out on the street to repeat the process.
"We have folks that come in and out of the emergency department probably every other day," Kazan testified to the Board of Supervisors.
A bill to help?
The mobile healthcare units can be a good start, Kazan told the Board, but there is some push back by state groups on the effort on a bill that would expand the role of paramedics to allow them to take patients to sobering centers and mental health urgent care units.
Introduced in January by Assemblyman Mike Gipson, D-Carson, and co-sponsored by the California Hospital Association, the bill would allow local emergency medical services agencies to submit a plan to transport some patients to a community care facility instead of a general acute care hospital.
If passed, this bill also would allow local Emergency Medical Services to add to its scope of "assessment, treatment, and transport of a patient to a community care facility."
In introducing the bill, Gipson noted that there were more than 14 million visits to California emergency departments in 2016.
"Many of us have personally experienced waiting in an emergency room for hours at a time," he said in a statement. "Emergency departments have a primary responsibility, which is to serve as a rapid response to emergencies — whether they are individual medical crises or mass disasters.
"They are not well-equipped to serve patients who have mental health care needs or people with substance abuse problems, as they often require specialized care and access to supportive services."
But groups such as the California Association of Emergency Physicians expressed some issues with Assembly Bill 1795.
At the heart of their concern is that the bill raises several questions that aren't clearly answered, especially regarding the care at the places where paramedics take patients, said Dr. Aimee Moulin, president of the association.
Moulin said the association has seen similar pilot programs and results among some show that EMTs did not provide adequate triage — quick decisions on a person's medical needs.
"This under-triage concern is exacerbated in patients with mental illness," according to a letter sent to Gipson by the association in January. "Patients with mental illness have a higher rate of other chronic conditions than the rest of the population."
The association has asked Gipson to consider some amendments before moving forward, Moulin said.
"For instance, the sobering centers they are talking about, I couldn't transfer a patient there, because they are not licensed," Moulin said. "If the paramedics are going to be taking a patient form the field to the destination, that destination should be license and paramedics should have more training."
Moulin said there are some good results from pilot programs around the state, but data from those programs need to included in the bill. Based on the results, safety controls can be put in place, she said, so that the patients can receive the right care.
"They're talking about some vulnerable patients," she added.
Kazan said that 50 years ago, associations were against fire departments taking patients to emergency rooms. But with training, firefighters now are trusted as first responders.
Evolving system
In the meantime, Kazan said he would continue to test out his mobile health care unit. The Department of Homeland Security has provided funding for two more vehicles to test across Los Angeles County.
So far, using his own SUV, he's done 10 tests in the Antelope Valley and has helped divert 44 people would would have otherwise gone to an emergency room.
In one case, an elderly woman who had so many different prescription drugs in her home — some of them expired — she'd confused what she was supposed to take. With few calls to her primary care physician, Kazan helped get her new doses and toss expired pills.
Kazan noted that the emergency medical network will have to be upgraded and personnel trained to understand when a call should be diverted to an integrated mobile health care unit rather than being handled by paramedics. With time and public education, he said, the system can evolve.
"Most of the health plans have access to urgent care or other services, but people just don't know about all those services," Kazan said. "We can make the calls to urgent cares. We can help make that connection for them. It would change the network, but it can be done."
[This story was originally published by the Los Angeles Daily News.]