At Shipyard Studios, a vanished past reflected in art of the present
Image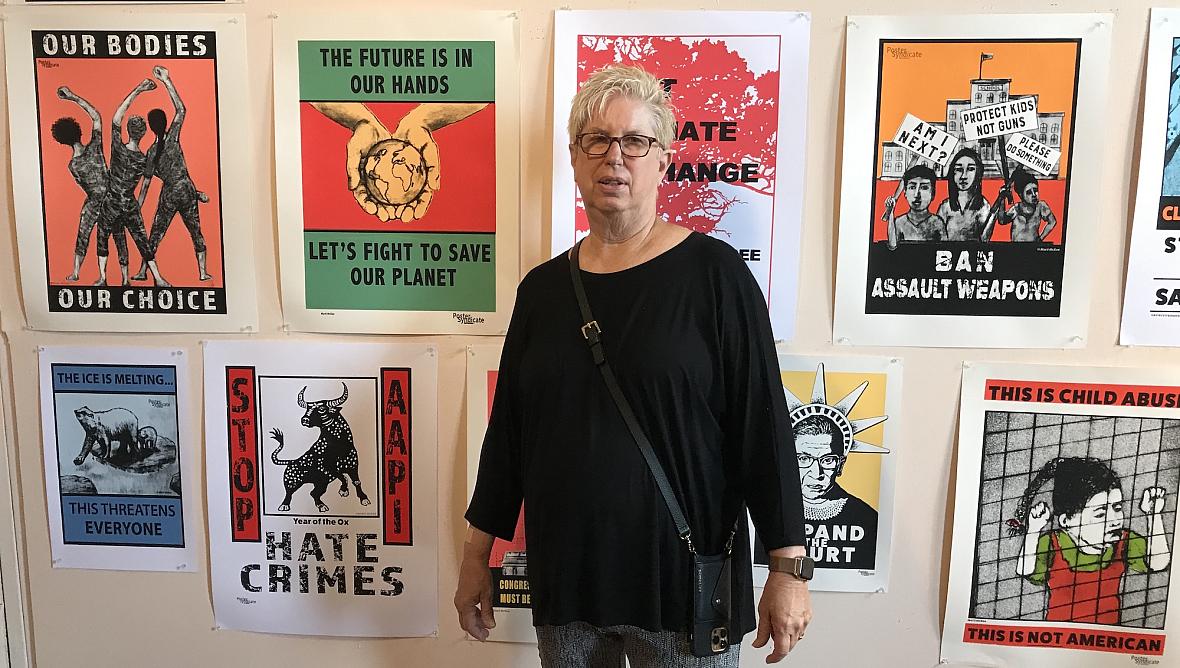 Published on
October 28, 2022
Navy barracks long ago became artist studios at Hunters Point Naval Shipyards, which were opened to the public last weekend for an annual open studios event (still viewable online through November 9). Here are three of the artists who feel connected to the site, the story of which is as controversial as the most scandalous art.
Like many of the nearly 300 artists who use former barracks and offices in the Hunters Point Naval Shipyards as studio spaces, Elvira Dayel loves the reasonable rent and quiet space. Unlike many of the artists, she can only shake her head at the irony of her being there.
"I grew up in the Soviet Union in the Republic of Ukraine," Dayel explains from her studio space in Building 117.  "We left in 1994. Just after the Soviet Union had fallen apart, which was interesting and dangerous at the same time."
On one of her walls hangs "Meaningful Gestures," 16 individual dry/soft pastels on watercolor paper in 12″ by 12″ simple frames that vividly display the daily horror of the war in Ukraine. 
Dayel remembers donning gas masks during school drills as a child ("Those old ones with the big goggles that never fit my face") and realizes how odd it must sound that someone who lived under threat of nuclear war would find refuge in a former military base.
"I feel like this place is the antidote. History flips itself but keeps on going. Which is good. We're still here."
Image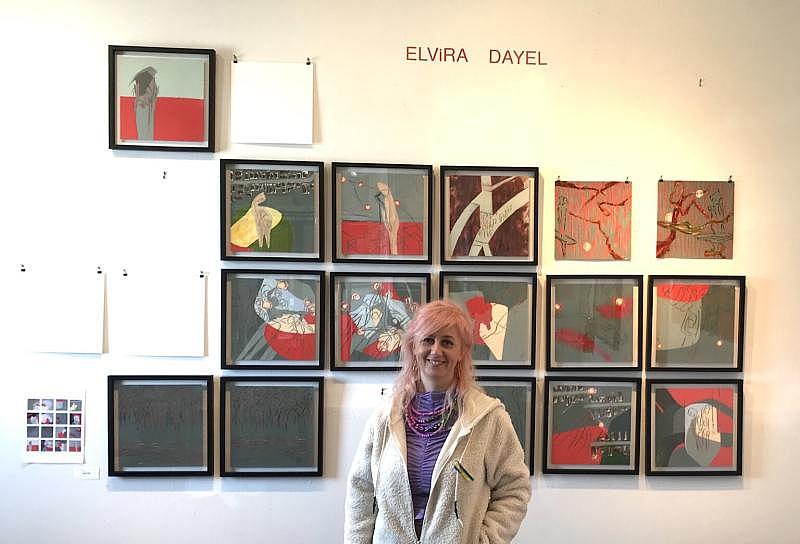 Before the artists could create, the Navy created—and on a massive scale. In 1942, a horde of tractors, steam shovels, and trucks leveled 170-foot tall Point Avisadero and spread the five-million cubic yards of earth into the bay to create the space to build ships to win WWII. 
After the base was decommissioned in 1974, someone "had the vision to use these barracks as art studios."
Dayel refers to Jacques Terzian, the godfather of the artists' studios, who subleased the vacant barracks to artists because he saw they "had so many damn windows, and that's what artists want. They want that northern light."
Artists have been working in theses studios for years, so Dayel doesn't seem particularly concerned about a recent Civil Grand Jury Report about how sea level rise might affect the area. She brushes it aside with the kind of dark humor that helps Ukrainians persevere.  
 "I mean I lived through Chernobyl, so…."
***
Next door, in Building 116, Marti McKee doesn't share such a historical connection as Dayel to the Shipyards, but is alert to how the setting affects her own process.
"I've never done imagery that reflects the Shipyard itself," McKee explains in her studio that showcases the dichotomy of her artistic pursuits, abstract figure drawing and narrative political posters. "But the history of what took place out here and the bleakness of the industrial site provides an environment to be creative and just do anything."
When asked if the industrial space inspires work because of its busy history of fitters and mason workers and officers clanging and drilling and shuffling papers, McKee has a slightly different take.
"In a way, industrial spaces are very clean. If I worked in a natural setting, I wouldn't be able to because I'd say 'Wow this is so beautiful.' But in industrial spaces the industry is long gone; you don't have to be careful or neat. That really impacts my ability to work. For my mind, it's a clean space. I don't want to be influenced."
Since McKee has been involved in the nonprofit arm of the Shipyard that advocates for its right to exist, she's well aware of the history of the site. Her health concern doesn't lie with any of the artists or the hundreds of delighted visitors who always packs the open studios. 
"I worry about how the contamination has impacted our neighbors, the residents who have lived out here for years. I'm only out here working for a few hours each week. Today is not too windy but oftentimes its windy and that topsoil is blowing right into the residential neighborhood."
Image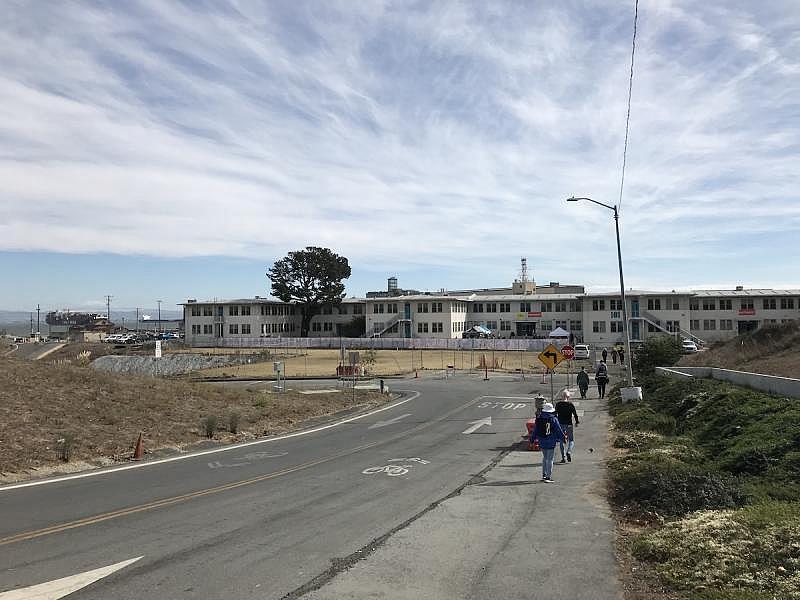 McKee's concern for social justice speaks through her captivating narrative art posters. Clear declarations for Women's Rights and Immigrant Rights are packaged in bright silk screen colors and shapes, bold posters that are handed out at marches, demonstrations and rallies.   
Even if she's had some slight exposure over the years, McKee shares Dayel's pragmatic and somewhat dark humor on the issue. "For my own personal health, by the time it catches up to me considering all the solvents and chemicals I've used in my art for so long, I'll be dead anyway." 
"If you're engrossed in art work, all the practical stuff goes out the window."
***
From Building 116, a path leads visitors gently up a hill which crests to a view of Building 101, where the jazz of Calvin Keys entertains visitors enjoying a Creative Ideas Catering food tent. Towering behind is the 450 foot tall gantry crane that popped gun turrets off battleships like bottle caps. 
Inside, one doesn't have to ask Stacey Carter if she's influenced by her surroundings. The answer is plastered all over the walls of her studio.
When Carter arrived to the studios in 1998, she found a remote, quiet industrial landscape. Full of wildlife and urban decay, the site had shades of the post-apocalyptic paradise that sprung up from Chernobyl once the humans left. 
"Then redevelopment started, and fences went up, and things were going to get torn down," Carter explains, surrounded by enchanting multi-media compositions based on photographs of the historic Shipyard site.  "And I said, 'Holy Crap! I need to document this,' and started taking photographs and doing paintings." 
Image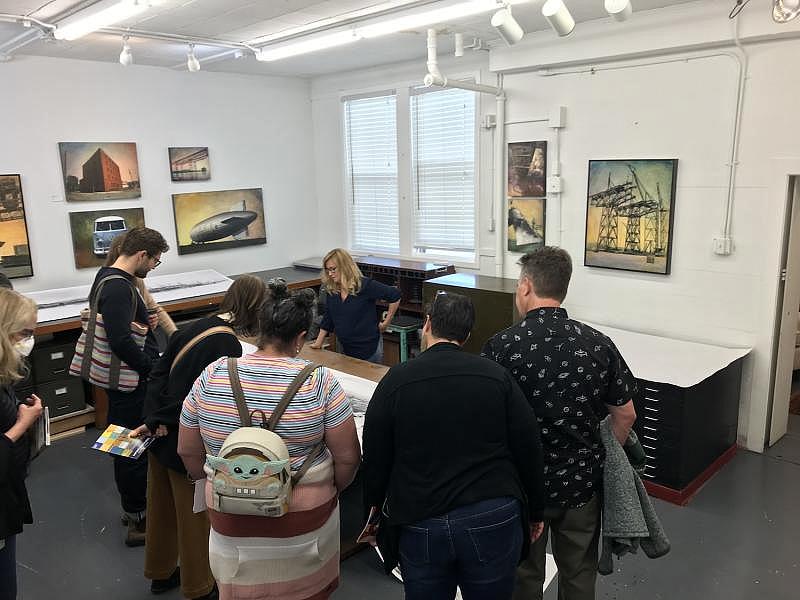 Carter's infectious curiosity about the site caught hold of her landlord, Derzian, who sent her to the City's Redevelopment Agency. They handed her the Shipyard's historic context statement, which she stayed up all night reading.
"That statement reads like a novel. This place is so significant to world history. The developer doesn't want to talk about this stuff because some of it is dark." 
A prime source of that darkness is pictured in a walk-in safe, part of Carter's studio. If there's one building to send chills down the spine at the old Shipyards, it's the Naval Radiological Defense Laboratory, an artless box designed to be overlooked. Vast amounts of nuclear waste went through this facility, with over 47,500 barrels of waste containing 13,500 curies of radioactivity dumped at the Farallones Islands.
When Mount Avisadero is mentioned, the source material for the site we're standing on, Carter moves instinctively to a photo box and pulls out an early 20th century aerial shot of Avisadero, which looked like any of the countless brown hills that slope into the Pacific up and down the California coast. A couple crowds in, releasing a slight gasp as we're all pulled into a vanished past. It's the type of response Carter hopes for.
"My work is a play on time. What's past is present. Capturing a moment. Is it old or new?" 
And like artists pausing before a creation, we are invited to step back and consider what we have done.
 
Did you like this story? Your support means a lot! Your tax-deductible donation will advance our mission of supporting journalism as a catalyst for change.