Fellowship Story Showcase
Building Homes for SF's Homeless Is Hard. Providing Mental Health Care Is Even Harder
There's only one Amanda Ling, but San Francisco needs hundreds more.
Ling, a nurse practitioner who specializes in mental health treatment, works two days a week at St. Anthony's Medical Clinic in the Tenderloin, which serves people living on the streets and in unstable housing situations.
Ling is there thanks to a grant that helps small clinics like St. Anthony's integrate mental and physical health care. It's a good start, but a small one. There's a nationwide shortage of mental health workers at just about the worst time for San Francisco as it works to bring thousands of homeless people off the streets.
The city is spending hundreds of millions of dollars on permanent housing with built-in support services, including mental health care, and officials are under pressure to spend more and go faster with the flood of state and federal dollars unlocked by the pandemic.
Without support on-site or nearby, however, residents are at higher risk of losing control and ending back on the streets.
"The goal is to manage patients in such a way that they don't fall through the cracks," says Ling, who is an assistant clinical professor at the UCSF School of Nursing.
Ling spends the bulk of her time at St. Anthony's in a small office, with room for her desk and a chair for patients, who tend to have complex issues like substance abuse and psychosis. A large window lets in the afternoon sun. (The clinic is down the street from the St. Anthony's dining hall, run by the same foundation.)
Ling also consults with the clinic's primary caregivers. Prior to this program, St. Anthony's provided some therapy but there was no collaboration between medical and psychiatric staff. This collaboration is more common in hospital and medical school clinic settings, less so for community clinics like St. Anthony's.
Without a team approach, it's harder to stabilize people and move them into housing, which is the prime directive in San Francisco.
'All hands on deck'
The shortage of mental health professionals is well documented. State and local health officials flagged it three years ago and predicted it would worsen. The next year, in a Kaiser Family Foundation survey, 52 percent of California residents reported their communities did not have enough mental health care professionals.
A major factor is the graying of the psychiatric workforce. Another issue is the stigma of mental illness, which blunts medical students' interest in the field, according to Beth Phoenix, clinical professor at the UCSF School of Nursing.
The pandemic has taken a mental-health toll across society; those working to make ends meet, to stay housed, or to stay alive on the streets, have carried an outsized burden.
"It's an all-hands-on-deck situation," says Phoenix.
In 2020, 712 people died of drug overdoses on San Francisco's streets, a 61 percent jump from 2019. One in every five of these deaths happened in the Tenderloin. St. Anthony's Medical Clinic director Kate O'Connor wants to offer showers and laundry, even for drop-in use, but the bigger emphasis is making mental health care widely accessible.
"We're talking about mental illness. We're talking about substance abuse disorders. Put those two together, and we're working at the heart of that," adds O'Connor.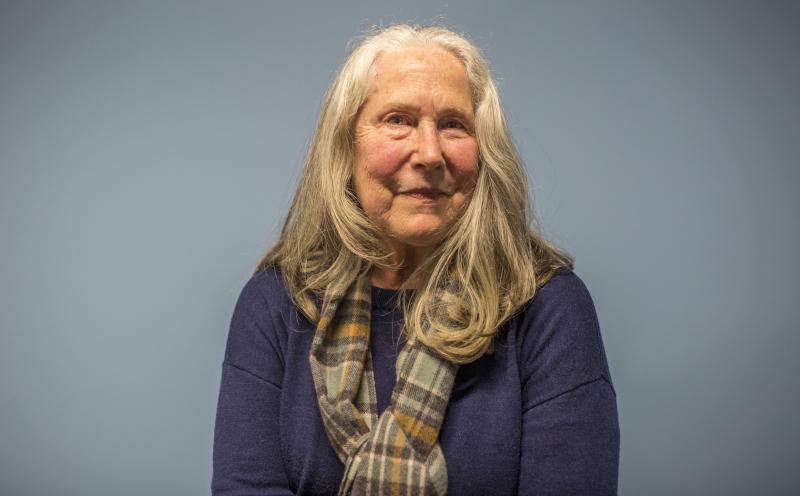 Those who make it into supportive housing need more clinical workers too. Through its "coordinated entry" system, SF is putting people with deeper health problems higher in the queue for housing, which plays out in the intensity of individual cases, according to housing providers. An aging person may need memory care for dementia, while another might need treatment for psychosis or a compulsive disorder such as hoarding.
Tougher cases mean more stress for an already overworked staff. "Finding licensed clinicians has been a struggle for us, and that puts more burden on the few licensed folks that we have," says Tramecia Garner, housing director and chief operating officer of Swords to Plowshares, which provides housing to formerly homeless military veterans.
"We've had people on the streets for decades, and their conditions deteriorated — trauma and more — so people moving in off the streets now need lots of intensive clinical support," says Sara Shortt of the Community Housing Project.
Until recently, a case manager might work with 30 to 40 people, and perhaps 15 would need more intensive treatment. But now, Garner notes, with an aging population that's been on the streets longer, most or all need a higher level of care.
"That's a very different lift," she tells The Frisc. "Our unit numbers haven't changed, but the needs of the people walking through the door have changed, and we still have the same staffing pattern."
Help to stay housed
UCSF is working to change that pattern. Ling is co-director of a program for nurses to earn a nurse practitioner degree while training in psychiatric care. (Nurse practitioners are nurses who have completed a two- or three-year graduate program in nursing. They have clearance to practice medicine more comprehensively than other nurses.) Just this year, UCSF, UC Davis, and UCLA began a separate program for nurse practitioners to add specialized mental health training, with an aim to graduate 300 nurses over the next five years.
Other personnel shortages have hampered SF's efforts to help unhoused residents. As The Frisc reported in March, chronic understaffing at the Department of Homelessness and Supportive Housing (HSH) has contributed to unfilled vacancies among the roughly 8,800 units of city supportive housing. As of late April, nearly 1,000 units were empty, despite many people who have received clearance but are still waiting to move in.
Filling these empty units should be a top priority of the department's new leaders, who take over after years of turmoil capped by the chaos of the pandemic.
As of 2019, SF's official policy has been to get the most chronically homeless into housing. If done correctly, that's good for them, and it can also save the city and taxpayers money. A single unhoused person costs SF about $80,000 a year just in emergency-room visits and ambulance rides, according to a 2016 SF Chronicle report, which estimated that care for the same person in supportive housing costs four times less.
Nationally, about 9 percent of people in permanent supportive housing wind up back on the street within six months, according to a 2018 federal housing report. It's unclear how San Francisco's rate stacks up. HSH officials did not respond to multiple requests.
[Update: The day after publication, HSH emailed that in 2019, 3.3 percent of people in SF permanent supportive housing wound up in a place "not meant for habitation" such as a vehicle or in the streets.]
In Santa Clara County, 169 chronically homeless people in a UCSF study published last September were brought into supportive housing, and 86 percent remained housed for several years, although 70 percent needed more than one placement to find a good fit.
The people in the study group were the most frequent users of emergency medical and psychiatric services. Once housed, the residents received collaborative care, akin to what UCSF's Ling coordinates at St. Anthony's, with one clinician for every 15 people — more than double what Garner has at Swords to Ploughshares.
This approach, which UCSF study leader Margot Kushel and others call "housing first," has gained momentum in recent years. SF's leaders embrace it too, but they're not moving fast enough, some advocates say. Last week, Coalition on Homelessness director Jennifer Friedenbach urged City Hall to create 1,500 more units by buying or leasing more buildings with the unprecedented funding pouring in from federal, state, and local sources.
Mental relief on your block
The unhoused population is not a monolith. An apartment subsidy is enough to propel some people to a better life. Others may need job counseling; many others need much more. So the city can convert dozens of unused hotels into housing, but without support services, the most vulnerable people will struggle.
Those services don't necessarily have to be on the premises. In the Santa Clara study, outpatient clinics were a major source of support for the people who moved into stable housing.
If it's up to Brett Andrews, San Francisco could have neighborhood mental health clinics across the city one day. Andrews is CEO of PRC, the nonprofit that runs the Hummingbird clinic, which just opened in the Salvation Army building on Valencia Street.
The center is intended as an alternative to the emergency room for people having mental health crises. It has 30 beds and offers stays of two weeks or longer, with showers, hot meals, and storage for belongings. Some people show up with a full shopping cart of possessions, says Andrews.
"Liar! Liar! Liar!"

These SF Sunset District neighbors are shouting down a pro-affordable housing rally on Irving Street

Speaking in favor is a mom who lives in a Chinatown SRO who says more dense housing will help her 3 kids

The shouting neighbors want 4 stories instead of 7 pic.twitter.com/RrAtoX4awV

— Joe Fitzgerald Rodriguez (@FitzTheReporter) May 22, 2021
The only other center of its kind in the city, also run by PRC, is on the grounds of SF General Hospital. But Hummingbird Valencia is in the middle of a bustling neighborhood. Its doors will be open to drop-in visits from people who live nearby and need services and counseling, but not necessarily a bed. "This is a community-based, homelike environment that can be replicated throughout San Francisco," Andrews tells The Frisc.
He notes that he couldn't get people from the Tenderloin or Civic Center to come to the Hummingbird clinic at SF General, just a couple miles away: "Homeless people have their own communities that they want to be close to."
But to bring these types of centers to other neighborhoods, Andrews and others will need to overcome the NIMBY pushback that arises with plans like an affordable housing project planned for the Sunset, which would set aside 20 percent of the units for formerly unhoused residents.
Of course, a network of neighborhood clinics will also need clinicians. "The city is experiencing a higher cost of living, and recruitment and retention have been a challenge," says Andrews. "It's a crisis across the nonprofit sector in San Francisco."
Kristi Coale (@unazurda) is a San Francisco-based freelance writer and radio producer for various outlets, including KALW's Crosscurrents and the National Radio Project's Making Contact. She reported this story as a USC Annenberg Center for Health Journalism 2020 Impact Fund fellow.
[This story was originally published by The Frisc.]
Did you like this story? Your support means a lot! Your tax-deductible donation will advance our mission of supporting journalism as a catalyst for change.