America's fierce fight over drug prices takes center stage in Congress
Image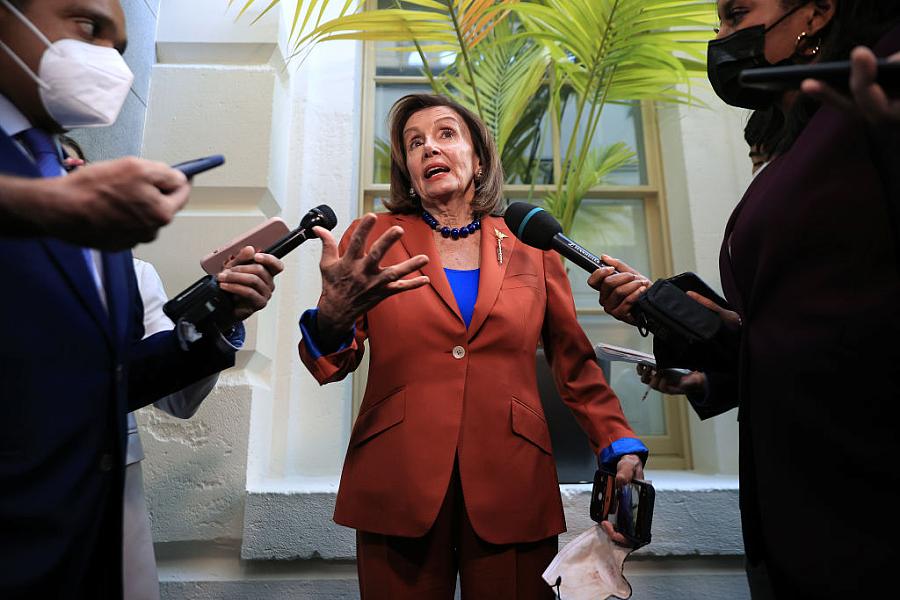 (Photo by Chip Somodevilla/Getty Images)
Published on
September 30, 2021
The forever war between America's pharmaceutical industry and America's public interest is approaching a climactic moment. At stake is whether Big Pharma and its allies will keep drug prices zooming upward, or whether the federal government can slow that rise by negotiating prices for some expensive drugs taken by Medicare beneficiaries. The U.S. House of Representatives is poised to vote on legislation requiring such negotiations in the next few days as a crucial element of the $3.5 trillion budget plan, and the drug industry is in overdrive to make sure that doesn't happen.
The hope among many members of Congress is that the savings generated by the government negotiating prescription drug prices — estimated at more than $450 billion over 10 years — will be large enough to pay for the hearing, dental, and vision benefits for Medicare beneficiaries that Democrats want to add to traditional Medicare's benefit package. In short, Democrats' health care legislative ambitions will be in disarray if the drug pricing legislation collapses.
Twice the Senate has refused to pass the Elijah E. Cummings Lower Drug Costs Now Act, the legislation authorizing price negotiations, once in 2019 and again in 2020 when it was included in the COVID-19 legislative packages. This year the House Ways and Means Committee included the drug provisions in their committee mark-ups with the aim of putting them in the reconciliation package now awaiting legislative action in the House.
Given the gobs of lobbying money being spent by the drug industry, it has been a tough slog. "There's nobody that doesn't want this to happen except pharma and its allies," says Steve Knievel, an advocate for Public Citizen's Global Access to Medicines Program. "The popular outrage is immense. People desperately want drug pricing reform." The barriers to achieving that, however, are equally immense. The pharmaceutical lobby is using strategy and tactics it has honed for years. This is the same industry that made sure in 2003 that the legislation that gave Medicare beneficiaries their drug benefit also prohibited the government from negotiating prices. It's that questionable legislative compromise that is being challenged today.
David Mitchell, who founded the advocacy group Patients for Affordable Drugs, told me, "Pharma doesn't want anything to curb its power over brand name drugs. It will do whatever it takes not to lose that special treatment to force us to pay whatever price it demands. It is the only health care sector that gets this deal. Everyone else negotiates with Medicare." He added: "We are in the battle now. It's mano a mano every day."
Pharma and ideologically allied groups are also promoting the message that drug negotiations are bad public policy. Between July and early October, 10 groups opposing such negotiations, including the trade group PhRMA, have will have spent at least $23.7 million mostly in TV advertising to promote its message that drug negotiations are bad for patients. The 60 Plus Association, an organization claiming to represent seniors, ran an ad on broadcast and cable channels "I'm Sorry They Just Said No," telling viewers Pelosi and Schumer want to cut their benefits. The American Action Network spent about $5 million also on broadcast and cable outlets warning viewers about Pelosi's "Socialist Drug Takeover Plan."
Three Democratic members of the House Energy and Commerce Committee voted against moving the drug provisions forward, and it's worth noting who has donated to their respective coffers. 
The Partnership for Chronic Disease, another group that has been actively fighting Medicare drug negotiations, weighed in with this ad featuring a young woman who tells us cystic fibrosis has been part of her life for as long as she can remember, but new life changing medication has made such a big difference. "I wish our policy makers in Washington would help us fight our diseases instead of fighting our ability to access medicines and fund cures." The Partnership has spent more than $5 million in selected states with similar messages. Its chairman is Dr. Kenneth Thorpe, who heads the department of health policy and management at Emory University's School of Public Health. A few years ago, the consulting firm Avalere Health released a study estimating that over the next decade the federal government could spend more than $49 billion on prescriptions for just 10 different drugs. Thorpe replied in Investor's Business Daily, "This shocking finding might prompt many to conclude that drug prices are responsible for skyrocketing health care costs. But that conclusion is unfounded." In 2016, Thorpe laid out his own solution to get spending under control — get Americans "to target the true driver of rising costs: chronic disease."
As I wrote in my last post, hospitals are the biggest driver of the country's high health costs, but as we know from the many Americans who have contacted Mitchell's group, the costs for extraordinarily high-priced drugs loom large for countless individuals and families. One of them is 68-year-old Steven Hadfield, a North Carolinian who suffers from a rare cancer and diabetes. The list price for his cancer drug Imbruvica is nearly $14,000 for a 28-day supply, and there's no generic option. He also takes another drug called Lantus to treat his diabetes, which costs $400 each month. His says his price for Lantus has gone up 735% over the last 20 years. So far his employer's insurance is covering the costs, but he worries what will happen when he switches over to Medicare and buys a supplement and a drug plan. "I fear for how much my medicines will cost me."
Patient advocacy groups, well-known to many Americans who have the diseases they represent, have been largely silent on the issue of negotiating drug prices in the current debate. One would think that organizations such as the American Cancer Society, the Arthritis Foundation, and the American Diabetes Association, which speak and advocate for people with those costly diseases, would be interested in lobbying for lower drug prices. But a report Mitchell's group released this summer shows that of the 15 groups they examined in depth at that time, none were supporting drug price negotiation. That list includes the American Diabetes Association (ADA), which did support negotiations back in 2016, but apparently is not this time around. In a statement to the House Health, Education, Labor and Pensions Committee in March, the group instead recommended a number of steps to make diabetes medications more affordable such as increasing transparency in the supply chain and cracking down on insurance practices that push patients to choose between quality and affordability. It made the same recommendations to the House Energy and Commerce Committee. In an official statement released in early June, the ADA announced it was encouraged by Biden's "budget proposal for its prioritization of funding to support diabetes research, management, and care," which includes requiring drugmakers to pay rebates if drug price increases "outpace inflation." That's hardly the same thing as giving a federal agency the power to negotiate. I asked the ADA about this change in their position on price negotiation.
"The American Diabetes Association has historically supported, and continues to advocate for, giving the federal government the ability that it lacks in Medicare Part D to negotiate drug prices," said Lisa Murdock, senior vice president for government affairs and advocacy, in a statement. "At the same time, we support other policies to promote more competition, restrictions on outsize middleman profits in the drug and device supply chain, and other steps needed to reduce the cost of drugs to people with diabetes."
If drug price negotiations fail to become law, and the related dental, vision, and hearing benefits for Medicare recipients sink with it, that failure might reasonably be attributed to campaign contributions — the mother's milk of politics — and their power to sway those who make the laws. Generous campaign contributions amounting up to $1 million were handed out by Pfizer to two-thirds of Congressional members in the last election, which should give the public a glimpse of money's strong grip on politics.
Three Democratic members of the House Energy and Commerce Committee voted against moving the drug provisions forward, and it's worth noting who has donated to their respective coffers. The Hill reported that Rep. Scott Peters, a Democrat from San Diego, California, was the top House recipient of drug company money this year, receiving $88,550 from pharmaceutical executives and PACs. The number balloons to $860,000 if you consider his entire career in Congress. "Pfizer Inc., Eli Lilly & Co. and biopharmaceutical companies Amgen Inc. and Gilead Sciences Inc. are his leading campaign cash sources so far this election cycle," as The Wall Street Journal reported this week. Peters couched his opposition to the bill as an effort to defend his region's biotech economy. "All those companies employ thousands of people in my district," Peters told the Journal. "So it's my job to make sure that that economy continues to thrive."
Oregon's Rep. Kurt Schrader received nearly $615,000 from the drug industry. The Hill reported "he inherited a fortune from his grandfather, a former top executive at Pfizer." His annual financial statement disclosed he had between $50,000 and $100,000 invested in Pfizer. Are we supposed to believe their opposition to drug price legislation is merely coincidental?
If drug price negotiations fail to become law, and the related dental, vision, and hearing benefits for Medicare recipients sink with it, that failure might reasonably be attributed to campaign contributions — the mother's milk of politics — and their power to sway those who make the laws. 
Then there's New York Rep. Kathleen Rice, who puzzled Congressional observers when she voted against moving the legislation out of committee. According to The American Prospect, since the 2020 election cycle, Rice has received only $8,500 from drug company PACs compared to $265,100 for Peters and $166,000 for Schrader. Yale associate professor Gregg Gonsalves recently pointed out on Twitter that a year ago Rice had tweeted she had "always put health and safety of Long Island first, whether it meant securing billions of dollars in aid for New York during the pandemic, taking on drug and insurance companies to lower the cost of health care…". It's fair for her constituents to ask what has changed.
With Pfizer's recent announcement of its employee "Grassroots Mobilization" effort, even more money will likely be flowing to members of Congress. Albert Bourla, Pfizer's CEO, called on the company's employees to voluntarily join Pfizer's effort to fight the legislation. Bourla said he was "particularly disappointed" that the plan backed by House Democratic leadership "will have little positive impact on patients where it really matters at the pharmacy."
In the end, it will come down to a David versus Goliath struggle, with Mitchell's group Patients for Affordable Drugs, the 38 million members of AARP, and 173 other grassroots groups that support price negotiations fighting the mighty drug industry, with the future price of $14,000-a-month cancer drugs hanging in the balance.  
Veteran health care journalist Trudy Lieberman is a contributing editor at the Center for Health Journalism Digital and a regular contributor to the Remaking Health Care column.