GOP legislator joins Democratic colleague in push to require AEDs in Kentucky schools
Image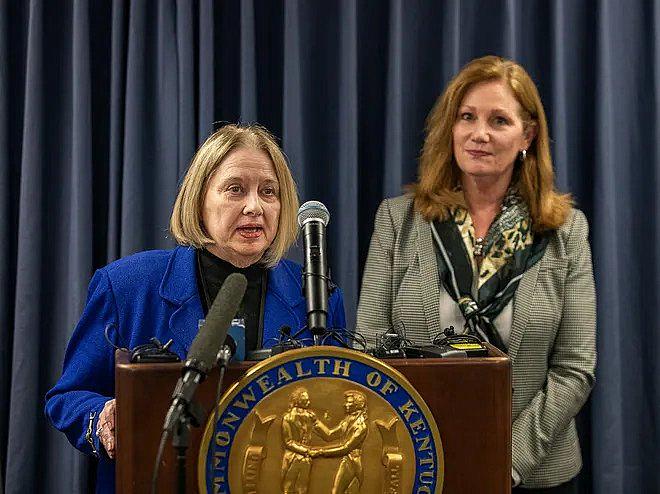 Jeff Faughender/Courier Journal And USA Today Network
Published on
February 21, 2023
FRANKFORT, Ky. — Unfunded mandate. They are words Rep. Kim Moser, R-Taylor Mill, has heard before in her push to get life-saving automated external defibrillators into schools.
That's why Moser is working to amend a new AED bill already filed, one that's different from the last two she's introduced.
This time, the bill would add a trust fund provision, which would accept donations. Grants from the fund could then be issued to schools to purchase AEDs.
"Or if the state decides to appropriate," Moser said during a Tuesday press conference at the Capitol Annex. "We're not asking for that right now."
The cost would amount to about $1,000 per AED.
'A preventable situation'
Image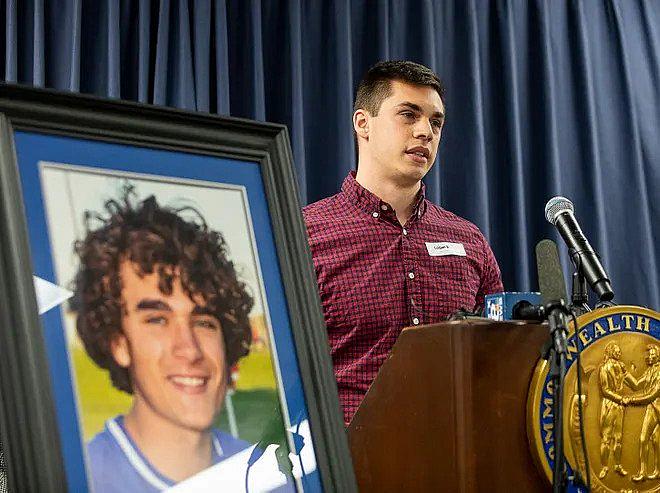 Jeff Faughender/Courier Journal And USA Today Network
Moser is teaming up with Democrat Ruth Ann Palumbo, from Lexington, who introduced House Bill 331 last week, which proposes an amendment to an existing state law that requires schools to have emergency response plans and emergency response drills.
"It's needed in Kentucky and will save lives," Palumbo said. " I'm so sorry to the families who suffered great lost."
Moser, who is the committee chair for the House Health Services Committee, said this bill is her top priority.
She said once the bill is picked up by a committee, a substitute bill with updated language regarding the trust fund and enforcement measures will be introduced.
Sudden cardiac arrest is the leading cause of death for high school athletes. For every minute an AED isn't applied, the chance of survival decreases by 10%.
Opinion:Sudden cardiac arrest in athletes is not new. Why every public school needs AEDs
"It's a heartbreak no family should have to endure," Moser said. "It's a preventable situation."
Moser filed AED bills in past sessions — House Bill 278 in 2018 and House Bill 252 in 2017.
Spreading awareness about sudden cardiac arrest
Image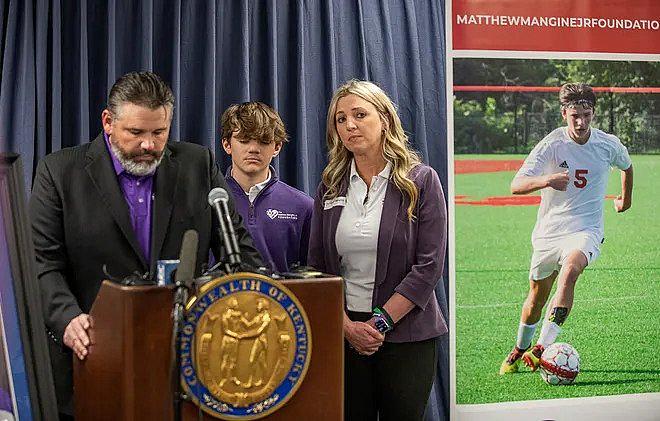 Jeff Faughender/Courier Journal And USA Today Network
Matthew Mangine Jr.'s family was at the Capitol on Tuesday, along with Cameron Baton's family, to speak to the importance of an AED bill this legislative season. Matt and Cameron both collapsed on Northern Kentucky sports sidelines that were not equipped with an AED, 10 years apart.
The Mangine family recently settled a wrongful death lawsuit with the Diocese of Covington and St. Elizabeth Healthcare regarding the lack of an AED being used on Matt. No AED was used on Matt until EMS arrived, about 12 minutes after his collapse.
Bills have been filed in state legislatures across America calling for AEDs, including in Indiana and Pennsylvania following the collapse of Buffalo Bills safety Damar Hamlin during an NFL game in January.
The Batsons and the Mangines both started non-profits in honor of their sons. Cameron's Cause works to spread awareness about sudden cardiac arrest and CPR, as well as providing AEDs.
Logan Batson, Cameron's little brother, spoke to a crowd of nearly a dozen reporters.
"Unfortunately, there's an important member of our family that couldn't be here today," Logan said.
The Matthew Mangine Jr. Foundation is also focused on sudden cardiac arrest and providing AEDs to schools. It also trains coaches and athletes.
Through the support of athletic trainers and an athletic director, the foundation has trained more than 700 coaches, athletes and teachers at Taylor High School, a school in Greater Cincinnati.
"Every sport at Taylor requires a hands-on refresher training for the coaches who are already CPR/AED certified before the season starts," Matthew Mangine Sr. said Tuesday. "The cost of this is zero.
"We hope that all schools in Kentucky implement education programs that mimic programs similar to this."
[This story was originally published by The Courier Journal.]
Did you like this story? Your support means a lot! Your tax-deductible donation will advance our mission of supporting journalism as a catalyst for change.