The Backstory: The real cost of child care in California
Image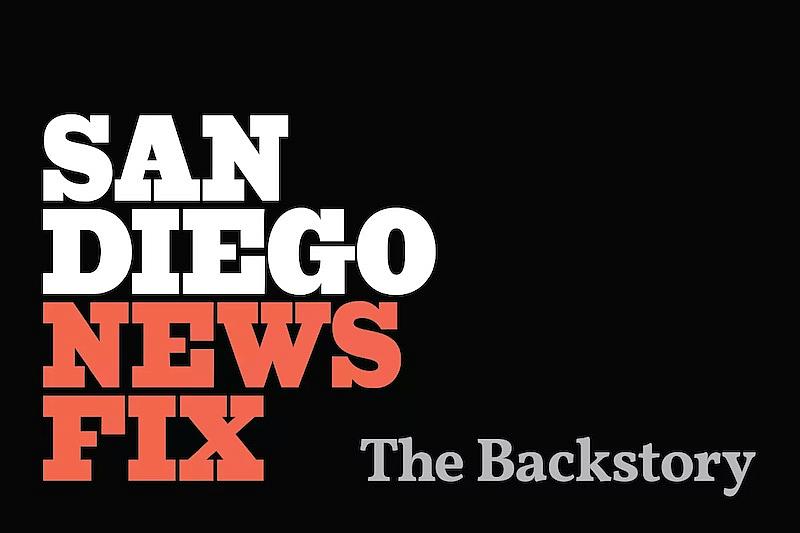 Published on
January 31, 2023
Luis Cruz: Welcome to "San Diego News Fix: The Backstory." California has several subsidized child care programs that help families pay for child care and fund many of the state's tens of thousands of child care providers. But that aid reaches only a small fraction of families who need it, and many providers say they aren't paid enough to cover their costs.
Joining us to talk about the real cost of child care are Union-Tribune education reporter Kristen Taketa, government and watchdog editor Sam Schulz, managing editor Lora Cicalo, and we begin with publisher and editor Jeff Light.
Luis Cruz: Welcome to "San Diego News Fix: The Backstory." California has several subsidized child care programs that help families pay for child care and fund many of the state's tens of thousands of child care providers. But that aid reaches only a small fraction of families who need it, and many providers say they aren't paid enough to cover their costs.
Joining us to talk about the real cost of child care are Union-Tribune education reporter Kristen Taketa, government and watchdog editor Sam Schulz, managing editor Lora Cicalo, and we begin with publisher and editor Jeff Light.
Jeff Light: Thank you, Luis, and Kristen, first of all, congratulations on a really well-reported project on a very important topic. You don't see a lot of reporting in this area, so thank you for all of that great work. Maybe, to start, you could just describe your project – the scope of it and the findings – to orient our listeners.
Kristen Taketa: Sure. It's a five-part project looking at California's subsidy system for child care. This is the main source of support that exists across the state for families who can't afford child care. And obviously, as we all know, child care is very expensive. Many families can't afford it. So, I wanted to look into that – Why does this system of support that's supposed to be helping families seem to be missing so many people? Why isn't it helping more families get child care? 
The first part talks about what that means for parents – the ways in which the subsidy system falls short for a lot of families and doesn't serve as many as it could or as many as it says it should be serving, essentially because there are lots of eligible families who qualify for subsidized child care, but they're not getting it.
The second part focuses on what that means for child care providers, the people who are charged with taking care of kids. In reality, the subsidy system does not pay them nearly enough to cover their costs. So, we talk about the ramifications of that for providers, who receive extremely low wages, and then also what that means for the child care supply, which in turn, limits the number of providers and spots that are available for child care. We go into many issues in those two stories.
Then, we have some more stories coming out. One of them is about this phenomenon in which there's actually millions of child care dollars that the state sets aside but they don't end up getting used, they go unspent. We talk about why that happens, which seems kind of contradictory to the situation when we need more money for child care and we need more child care. 
Then the fourth story will be about one California city – San Francisco – that has managed to find a possible solution for these issues – the issues of providers not getting paid enough and for the issues of not enough families getting subsidized care. So, we'll talk about how they got there and what that will do.
Jeff Light: And you've also got a guide for parents that I thought was a really good part of all of this.
Kristen Taketa: Yes, we hope to distribute that to more parts of the city. It's a guide to explain the basics of child care for families – different types of child care, how you could qualify for subsidized child care. We're hoping to demystify that system for families because it can get really confusing.
Jeff Light: Now, how did you end up going down this road on child care? What was the genesis of this work?
Kristen Taketa: I normally don't write about child care. I normally write about K-12 education pretty much exclusively, but I had run into a few child care stories throughout my time here writing about education. There was a study that the University of San Diego did about four or five years ago where they kind of briefly touched on all these issues that I explored in the series – the issue of money going unspent and returned to the state because the child care dollars couldn't be used, and the issue of families making too much to qualify for subsidized child care but not enough to pay for child care themselves.
That study, I thought, was really interesting, but I wanted to answer a lot of the questions that I had looking at it. Why do we return money to the state when we need more child care? And how many families are falling in that gap of not being able to pay for child care themselves but not getting any help from the state?
That was always kind of on my mind throughout the years I've worked here, and I wasn't able to really carve out time to delve into that because it was such a hefty and time-consuming topic and it was outside of my regular beat. So, I feel like I got a chance to do that when I applied for a fellowship that is offered by the USC Center for Health Journalism. I guess it kind of gave me a reason to carve out time to do a big project like that. That's how I finally got to be able to write this series and work on it.
Jeff Light: Yes, so just tell us a little bit about the fellowship. How does that work and what was the whole process there? What does a journalist on a fellowship do?
Kristen Taketa: Well, there are different kinds of journalism fellowships out there with different structures, but this one, in particular, started off last summer with a week of professional development. It was me and a cohort of other fellows from across the country from different news outlets – from public radio, from online-only outlets and other traditional newspapers, a lot of other talented journalists were there – and we had these workshops and talks. Some of them were about public health issues to help us learn more about them, and some of them were about how to do better journalism – how to approach a large project like this and things like that.
We also, during that fellowship, collaborated and brainstormed with each other. There were also some mentor editors from other news outlets, so we all kind of worked together and brainstormed on our projects and also about general newsroom issues, like newsroom culture. It was a really interesting week of learning.
I think I personally liked it because it was a chance for me to get to see how other journalists work and get a chance to kind of go out of my K-12 bubble to learn more about education, since education really does overlap with a ton of issues in society, including public health issues. I think the way the fellowship tried to frame health is that it's really a multidisciplinary subject where everything is connected to each other, whether that be homelessness or poverty or environmental health. I would say it was a really broad umbrella of how they defined health, but child care definitely fell under that umbrella as well.
Jeff Light: And, as a fellow, your obligation was to produce a significant story in the realm of public health? Was that the agreement? How did all that work?
Kristen Taketa: Yes, that was a requirement. The main requirement for the fellowship was we had to produce a project with a number of stories or installments about a subject of our own choosing. So, part of the application was me presenting my proposal for the whole project and what I hoped to accomplish with it and what kind of topics and stories I was planning to produce for it. That's how they decided how to accept applicants – based on their project proposals. But, yes, the requirement was to produce the project within about half a year.
Jeff Light: Terrific. OK. Let's turn to Sam Schutz. Sam, you are the editor who works with Kristen, as the government and investigations editor, and this project gave us an opportunity to get at something that isn't one of our beats. We don't have a child care beat, so it's a whole entree into a really important topic. Maybe you could share a little bit of your thinking on the project and, also, a little maybe about how this is different. Is there any difference between Kristen's fellowship work and the work that you two would have done together if Kristen had come to you and said, "Hey, I've got ideas about a child care project"?
Sam Schulz: You know, that's a great question. As a relative newcomer to the U-T, Kristen was actually the first person here who I met in person, and that was the week she was at that fellowship at USC. She was working on this when I came in, so it's been a pleasure to come in early on this project and really shape it and see how her beat can be expanded. 
To Kristen's point, I don't think that early childhood education and child care have really traditionally been included in education beats. I think that there has been a move toward doing that more in a number of newsrooms. But, as I think a number of the providers that she spoke with have mentioned and alluded to throughout the series, you can make an argument that some of this crisis of child care comes down to a very different type of value that's placed on child care – what we know as child care and early childhood education – versus K-12 education.
I think she did a really smart job throughout this series of situating that crisis – its economic effects, the toll that it takes on the health and well-being of parents and of small-business owners and of children, too – and how that crisis can be exacerbated in some cases by K-12 education policy, that these are not completely divorced realms. And that's true especially now, with the state's expansion of transitional kindergarten, which is policymakers' term for the year of pre-K for 4-year-olds.
It's become ever more clear with that the consideration of child care does belong in the education beat – whether we're talking for young children who aren't yet in school or how after-school care complements – or doesn't – K-12 education. I think throughout this series, Kristen has done a really great job of laying out how that fits in and sort of mapping out what that coverage of education might look like – more broadly – going forward.
Jeff Light: Yes, and as a parent of two children, that struggle with child care is one that everybody with children has faced. It really is a profound topic, so I thought both of you did really great work on this.
Lora Cicalo, I wanted to just turn to you to think about this issue of fellowships. So, the Center for Health Journalism at USC – part of the Annenberg School – I think fits our definitions of a reputable and legitimate partner for our journalism work, a place with values that we share and with a long tradition of journalistic ethics, right? I think that makes it a pretty good fit. But how do we decide what kind of journalistic partners we might or might not engage with and are there any perils in this work? What are your thoughts as the managing editor?
Lora Cicalo: I do think there's the potential for peril. Traditionally, the fellowships that I'm aware of that staff members have participated in have been journalism-oriented. They've been geared toward either professional development or continued learning, either specific to journalism or maybe, in some cases, to someone's beat to give them an opportunity to take some time away from the daily deadlines to really delve into their area of expertise. And, as Kristen was saying, I think one of the values in those kinds of fellowships is being able to learn from fellow journalists – learn best practices, how other news organizations or other people in your subject area are approaching their work, to use that opportunity to really learn from each other.
The peril would come – and hopefully we would be attuned to this in considering fellowships – if an organization or fellowship sponsor was trying, in some way, to get special consideration or curry favor or directly influence coverage. I think we would take a pass on that. And I think we would want to guard against anything that would either create a conflict of interest or create the appearance of a conflict of interest. We would shy away from anything that would compromise our ethical standards.
Jeff Light: Yes. I think the challenges in the journalism industry have brought forth also a lot of opportunities for these kinds of fellowships and for funding from different journalism and philanthropic groups. And the lines are not always bright lines. I think I've seen some that I wondered whether we would accept them or not, even in the education field. I can think of one in L.A. that raised some questions a few years back. So, there probably will be more opportunity to explore these ideas as the world becomes a little more complicated going forward. But with that, I think I will turn it back to you, Luis, and again, Kristen, thank you for your terrific stories.
Luis Cruz: Thank you very much, Jeff. Thank you, Lora, Kristen and Sam. That does it for this special edition of "San Diego News Fix." You can read Kristen Taketa's special series on California's child care system on our website and also find a parent's guide on how to find child care and how to get help paying for it. For everyone at The San Diego Union-Tribune, thank you very much for supporting local journalism.