Finding home: Two CT families get new housing after eviction
Image
Published on
April 4, 2023
Maybe she'll put the couch in this corner, perhaps a side table filled with votive candles against that wall, and some photos could look good in this empty space near the kitchen.
Tanya Austin strides from room to room, pointing out where a piece of furniture will go, how she will decorate, and the features of her new apartment that her son will love. She steps into the hall and yanks the door shut, a smile on her face as she demonstrates that she can now unlock her own door with an app on her cellphone.
She's building a home again for herself and her teenage son, Dexter Menyfield. Creating a home no matter the circumstances has always been a point of pride for Austin.
Until now, those circumstances have been far less than ideal. After an August eviction, she and Dexter have bounced around. They've stayed in motels, at a shelter and in the back of a U-Haul. In her last days at the shelter, one of the other women staying there got an apartment. Austin has been crashing on her couch the past few weeks.
"It's like a whole different breakthrough," Austin said. "Less stress because now I'm in my own. … So it's like a new beginning and a new start."
And just a few miles from Austin's old apartment, Carmen Diaz, another Connecticut woman who faced eviction, is settling in. She spent a recent March day digging through boxes for pots and pans so she could make chicken and rice for dinner.
No two eviction stories are quite alike. Each has its own set of challenges, and families cope in different ways.
But for both Austin and Diaz, much of their journey centered around home: the homes they left, the homes they fashioned while they and their children occupied cramped motel rooms, and the homes they're creating in new apartments.
Image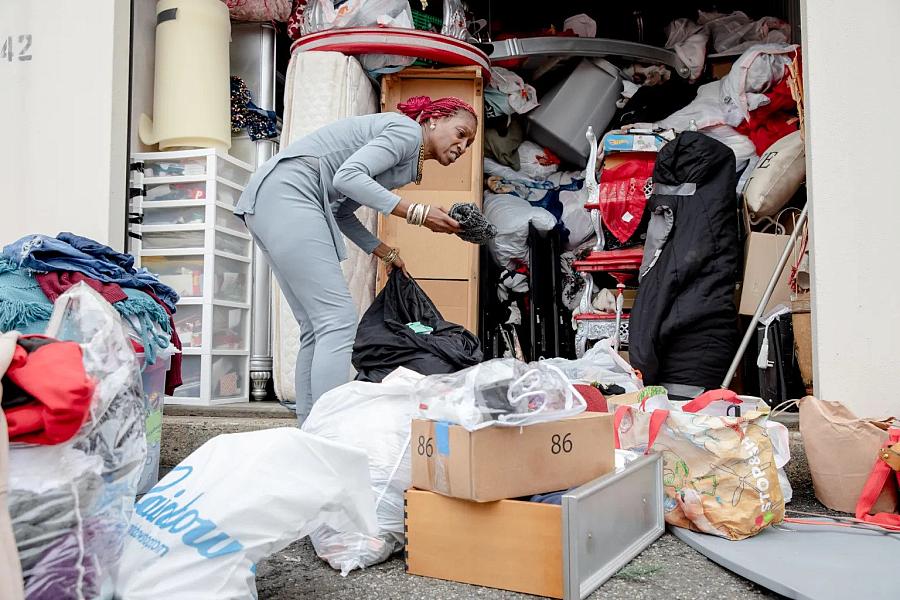 YEHYUN KIM / CTMIRROR.ORG
Austin, Diaz and their children are among thousands of Connecticut households that faced eviction in 2022. With 22,745 filings, it was the highest number of evictions in a year since at least 2017, the earliest year with data available.
And Valentine's Day of this year marked the highest number of filings in a day in the past five years, with 204. There had been just over 4,000 eviction filings this year as of mid-March.
That increase is likely because of COVID-19. Many families are still struggling after losing work during the pandemic, and rising rents have made it harder for others to make their monthly payments.
Notice to Quit, a Connecticut Mirror series that examined the effects of eviction on children and families in the state, featured both Austin's and Diaz's families. 
An eviction can disrupt a child's education and sense of stability. It can harm their physical and mental health and separate them from friends and family.
Following an eviction, many families become homeless. Both Austin's and Diaz's families stayed in hotels while they were looking for new places to live.
It's often tough to find housing again after an eviction.
Image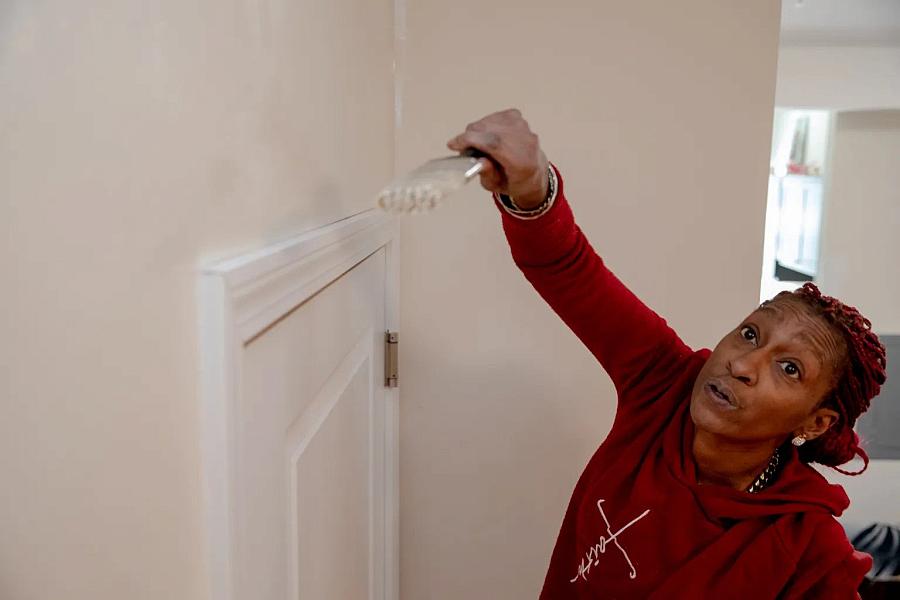 Many landlords don't want to rent to someone with an eviction record, especially in the tight rental housing market that persists in Connecticut. It's not uncommon to spend weeks or months looking for housing. The paperwork and processes that come with housing assistance or programs that help families find housing can delay the process further.
During a session marked by a focus on housing, legislators have turned toward a couple of measures to ease the effects of eviction. The Senate Democrats' housing priority bill would ban wintertime evictions. And a bill from House Majority Leader Rep. Jason Rojas, D-East Hartford, would designate it discriminatory to deny housing to someone based on an eviction that's more than five years old.
Both bills have gotten initial committee approval and await votes on the House and Senate floor. The measures that deal with money could also go to the Appropriations Committee.
"I had spoken to people here in Bridgeport, who in the dead of winter — before COVID — who had come to me saying that [after] getting evicted they had no place to go," said Sen. Marilyn Moore, a Bridgeport Democrat and co-chair of the Housing Committee. "I just couldn't figure out: How do you put people out in the winter?"
---
Diaz, whose family had to leave their home of seven years in February, asked when the meeting was and how she could speak up when a reporter told her about the Senate bill.
Image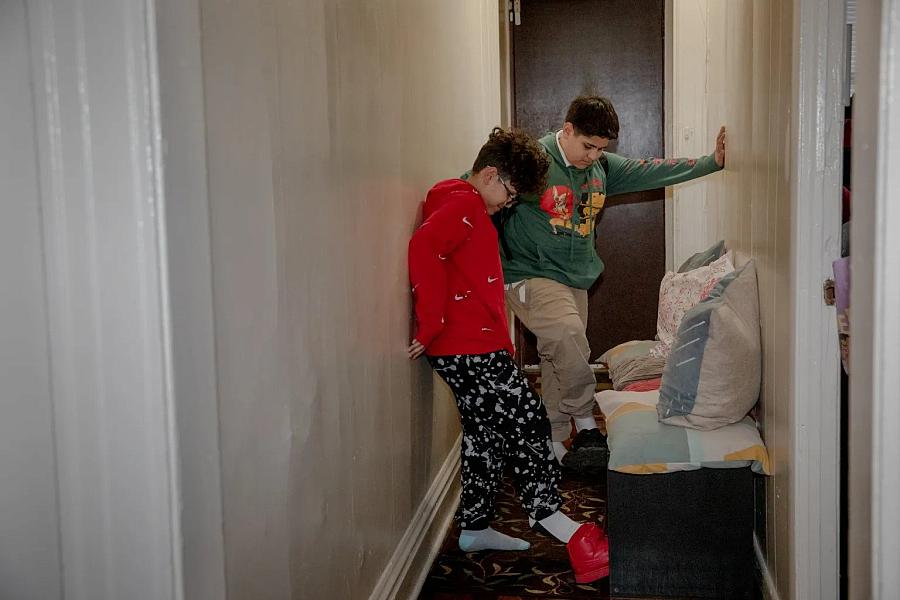 Her landlord filed an eviction against her during the summer. She'd lost income during the pandemic and struggled to pay rent. Diaz runs a small home health care business and feels like she is always working.
"It's a process," Diaz said. "I need to get settled in."
Their path toward losing their Hamden home was winding. After the eviction was initially filed, she packed up her three boys' belongings, and they moved in with family. Then, she packed up their home and lived in the empty apartment, waiting.
Eventually, the eviction order was overturned because the landlord didn't include information about Diaz's housing choice voucher. Diaz's landlord then told her if she didn't move out, he'd file what's called a lapse of time eviction to force them out at the end of her lease.
Despite the impending threat of another move, Diaz unpacked. She hung pictures, fluffed pillows and strung up Christmas decorations.
She wanted her boys to have a normal Christmas.
And they did, although they had to move out soon after. They stayed in a hotel for a few weeks until a nonprofit helped them get into a new apartment.
Image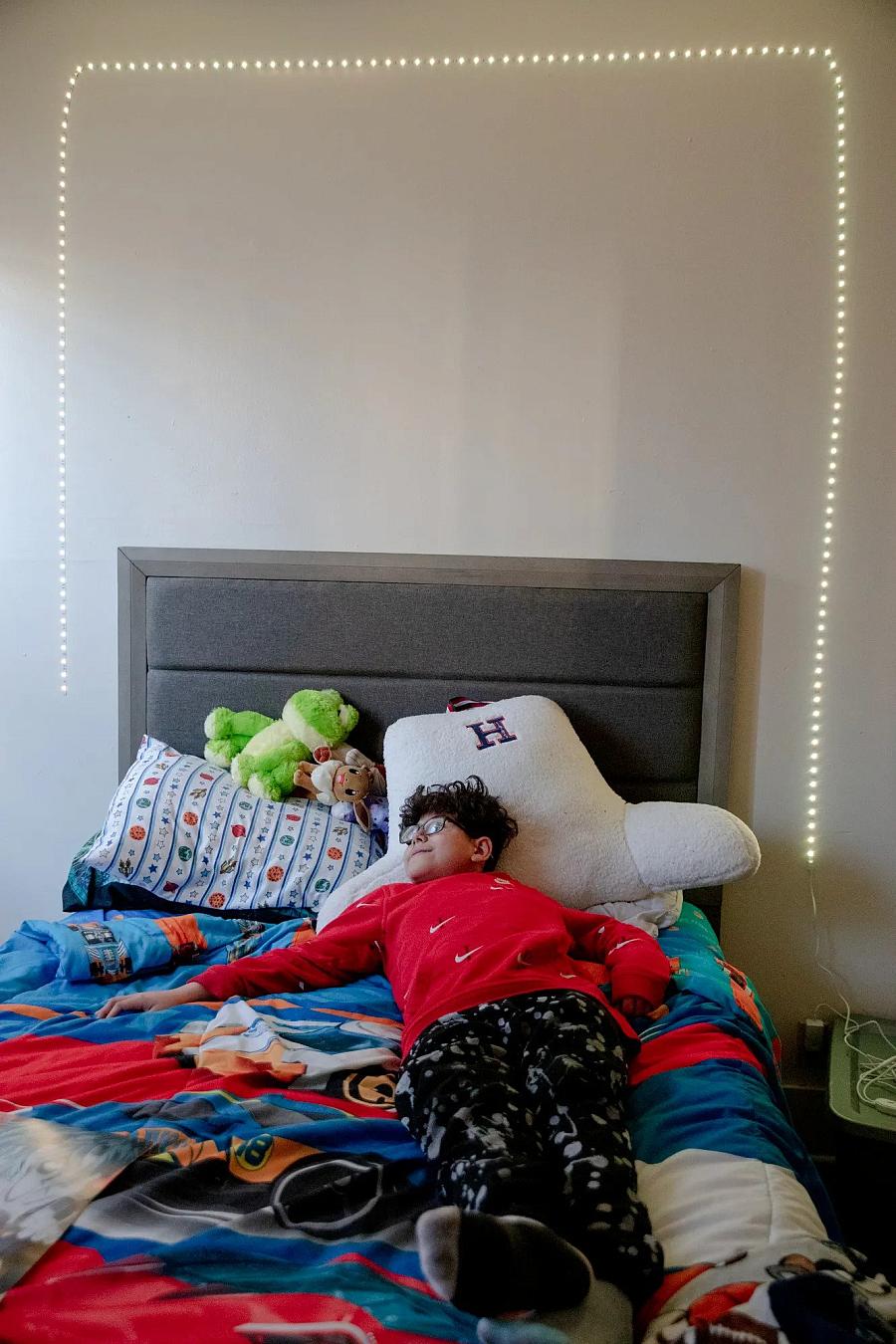 It's smaller, more cramped than their old apartment. Diaz doesn't have the room for her "girl's space," the area in her old home she had built just for herself. That nook, which used to be a spare room, is now relegated to a pillow-covered bench in the front hallway.
Being in a new apartment has its ups and downs. She misses her old neighborhood. The traffic near their new home is much busier; recently someone crashed a car into their porch, just feet from her bedroom. But she's glad to be in a new place, out of the hotel. And the commute is better.
"I think I'll be here for a while," she says on a day in March.
Her boys are excited, especially her youngest son Elijah Jovany Santini, 10.
Image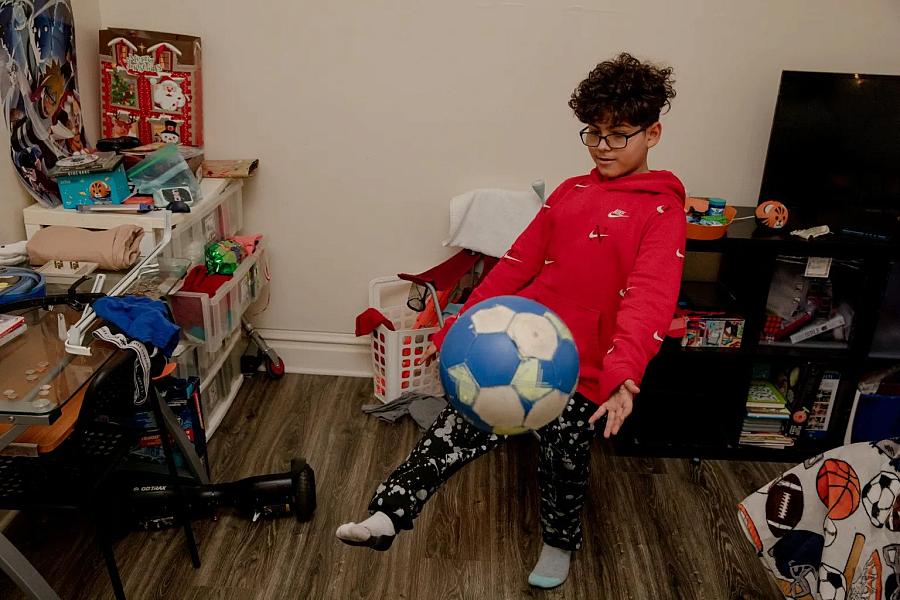 He's got his room set up, the stuffed animals arranged across his Hot Wheels bedspread. He's got a new and growing collection of what he calls rare coins — mostly quarters from other states like Rhode Island or Idaho. The oldest is from 2001, more than a decade before he was born.
"You're going to move soon, and you'll have your room again," he says, offering advice to other kids who might be going through an eviction.
Even though he still misses his old room, he likes being close enough to walk to a nearby convenience store. He begs to walk there to buy a treat, grabbing a handful of nickels — they're not so special — and a couple of crumpled dollar bills for the journey.
---
Tanya Austin's demeanor is transformed now that she has a home. She's cracking more jokes, speaking more slowly and the nervous leg bounce that used to emerge nearly every time she sat has disappeared.
"It feels like a new beginning. I'm happier. And look how beautiful this is," Austin said, gesturing to the empty apartment in front of her.
Image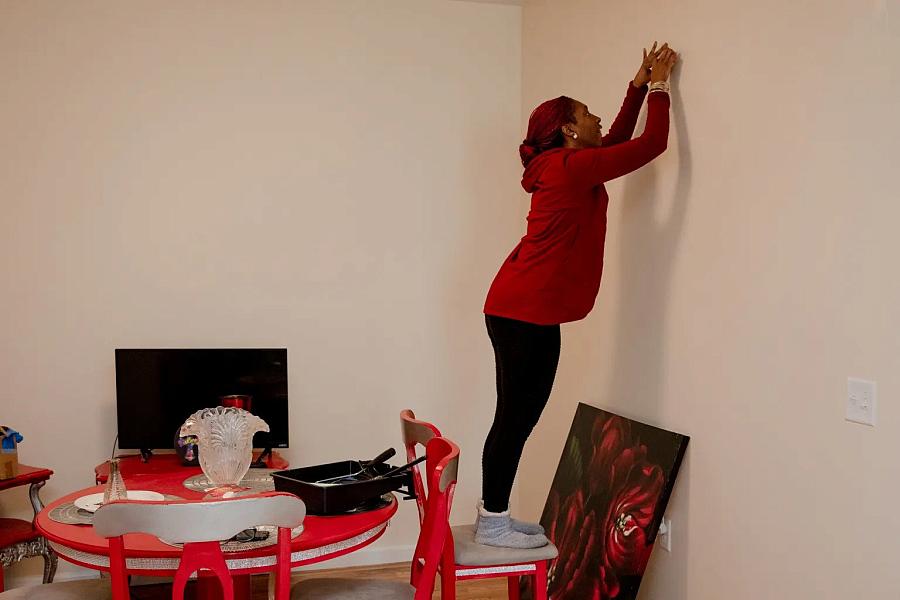 She's excited to be back with her son full-time. Ever since she moved into a New Haven homeless shelter, he's mostly been with her on the weekends and with her mother during the week. She didn't want him in the shelter too much, and getting transportation to school from their new place proved difficult to sort out.
Austin's experience at the shelter wasn't what she'd hoped. She didn't feel supported much of the time and didn't think the staff were helpful or communicated clearly about what she needed to do in order to get back into housing.
Austin says Sandra Arenas, Division of Consumer and Constituent Affairs chief in the Connecticut Attorney General's office, did much more for her. She reached out to Arenas in the early stages of her August eviction.
The eviction was for a lapse of time, meaning her lease had ended. She says she and her landlord were in conflict for months beforehand.
Arenas first got in contact with Austin through a complaint Austin filed with the attorney general's office. Arenas helps connect people with services through the complaint system, she said.
"We don't have any services to give you, but I can call the people that may be able to assist you and be able to put you up somewhere," she said.
She worked with Austin for months, calling shelters and apartments. She says much of what she did was letting Austin vent about the situation or putting in calls to nudge service providers to help Austin.
"With her I think she was the true force in this, in advocating for herself," Arenas said in an interview.
Image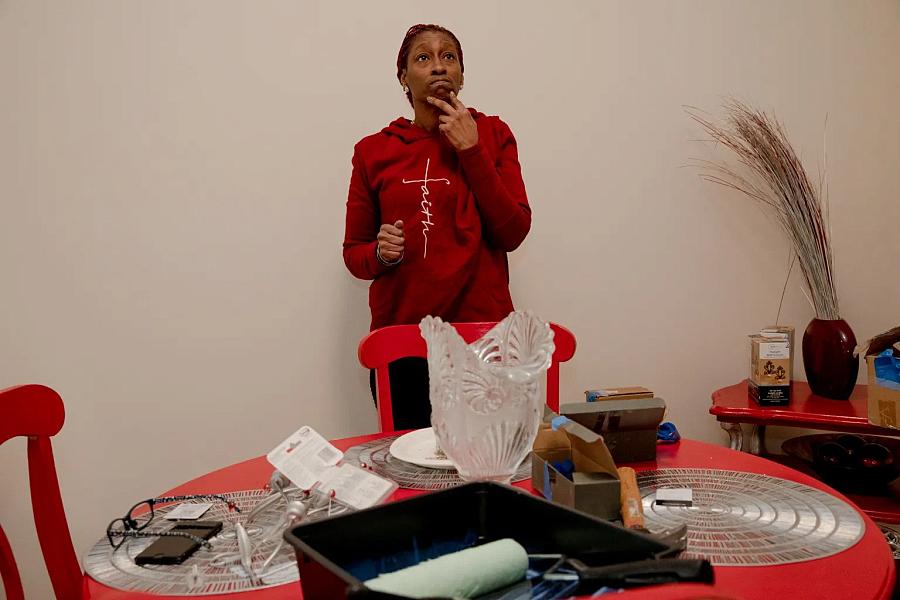 After the eviction, Austin and her teenage son, Dexter, stayed in the back of a U-Haul. They stayed at motels, one in West Haven for several weeks.
Things were easier at the motel, where Austin had some sense of control over their surroundings. She could retrieve items from their storage unit to make it more comfortable. She could stock some of Dexter's favorites in the mini-fridge. She could easily walk down to the river in the mornings.
Proximity to the water has always been important to Austin. It makes her feel calmer, and she likes to walk along the edges of the water to pray in the mornings.
Their new home in Shelton is close to the river, too, one of her favorite things about the new place. It's a new mixed-income development, partly funded by state grants. Lt. Gov. Susan Bysiewicz and Department of Housing Commissioner Seila Mosquera-Bruno attended the official opening in late January.
After several delays waiting for her housing choice voucher paperwork, background checks and the keys, Austin moved in February. She has been in the process of setting up her new home and getting everything ready for Dexter.
"It felt good to go to storage to be taking it out," she said, of her belongings that had been in a unit for months.
The key to getting through it, she said, is printed on the front of a sweatshirt she wore while she unpacked: faith.
Image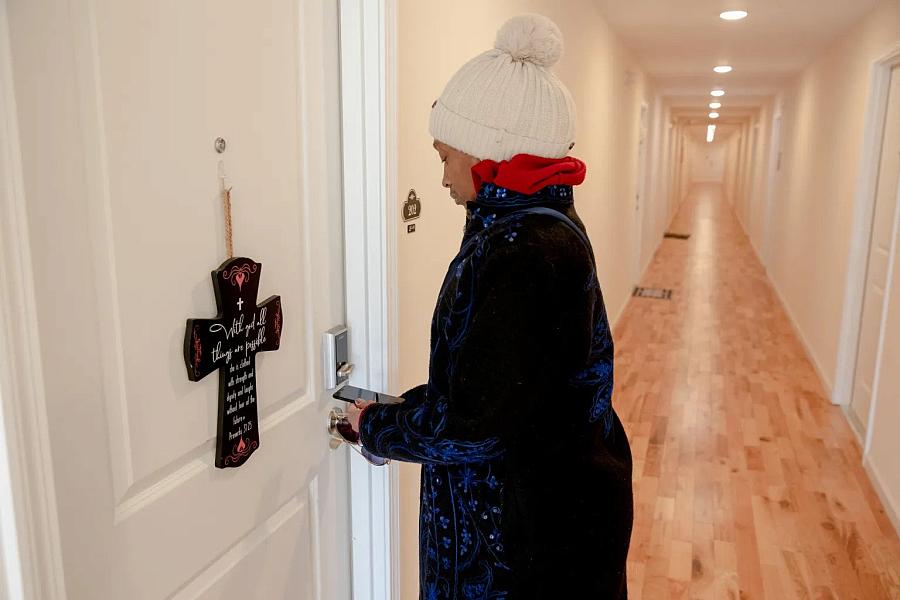 The first night she stayed at the new place, she had very little furniture moved in, just a few boxes, dishes and a borrowed air mattress. Her voice still echoed off the walls of the empty space. 
She didn't want to leave that first night, even if she hadn't moved in quite yet.
"I'm gonna go ahead and start getting used to my house," she said. "I've been crying, and I wanted my apartment so bad. So I said 'Let me go home now.'"